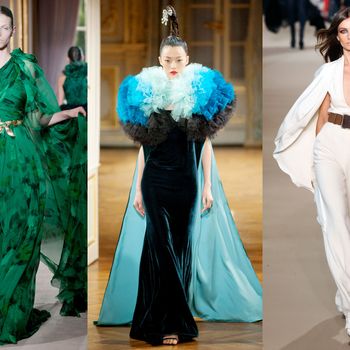 From left: cape dresses at Giambattista Valli, Alexis Mabille, and Stephane Rolland.
Photo: Imaxtree, Imaxtree, PIERRE VERDY/AFP/GettyImages
Have you ever put on a dress, looked at yourself in the mirror, and thought, You know, I'm having a bad butt day. I wish this dress had a voluminous component that would cover up the entire back of my body so that no one could see it? Well, then, cape dresses are for you! And luckily, they're popping up all over the couture runways: Giambattista Valli showed some sheer ones yesterday, while Alexis Mabille's had dramatic, ruffled collars and contrasting undersides. Today, Stéphane Rolland rolled out a bunch of swirling capes in everything from feather-trimmed satin to sheer silk. Meanwhile, some folks on The Cut team have argued that this look from the new Dior collection could be called a "butt cape," but the jury's still out on that one. 
While the cape-dress trend could be attributed to everything from Game of Thrones to the plethora of new Little Red Riding Hood movies, the Tom Ford outfit that Gwyneth Paltrow wore to the Oscars merits a nod. Either way, it certainly adds drama to otherwise ho-hum silhouettes, and its ability to keep one's backside nice and toasty come winter should not be overlooked.