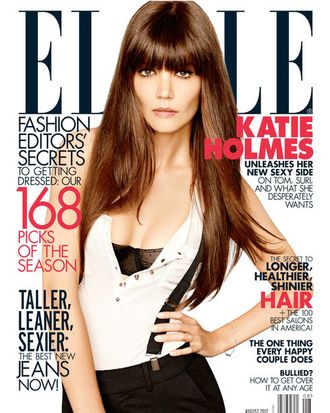 Katie Holmes's Elle cover.
Elle planned to put Katie Holmes on their August cover long before any news of her divorce broke, and now the magazine finds itself with a big get instead of another ho-hum profile in which Holmes artfully dodges questions about Tom Cruise. The story isn't pegged to any forthcoming acting gigs of Katie's (since there aren't any) and focuses instead on her Holmes & Yang fashion line, which announced just this morning that they'll stage their first-ever presentation at New York Fashion Week this September. This Elle story further proves Holmes's interest in beefing up her visibility in the fashion world — the industry where many actresses take refuge when their on-screen careers head south.
Elle interviewed and shot Holmes back in mid-May, and today revealed some exclusive excerpts in the Post, which eagerly points out early signs of Holmes's impending split:
Katie Holmes hinted at her state of mind in an interview conducted weeks before dropping her divorce bombshell, saying she was entering "a new phase" and "I know where I want to go."

"I definitely feel much more comfortable in my own skin," Holmes told Elle magazine when asked about being in her 30s, for an upcoming cover story. "I feel sexier. I think in my 20s, it's like you're trying too hard to figure everything out … I'm starting to come into my own. It's like a new phase" …

Holmes further indicates an independent state of mind in the interview, which hits newsstands July 17, in response to a question about her identity as Mrs. Tom Cruise. "He has been Tom Cruise for 30 years," she says. "I know who I am and where I am and where I want to go, so I want to focus on that."

A source close to the magazine told us that during the interview — and accompanying shoot with fashion photographer Carter Smith — "Katie didn't speak about Tom in a lovey-dovey way at all. She deflected the Tom questions and brought them around to herself."
It's hard to believe that this cover, the new emphasis on her fashion line, and her divorce are pure coincidence — but who had any doubts about the carefully greased PR machine that's surely walking her through every step of this process?