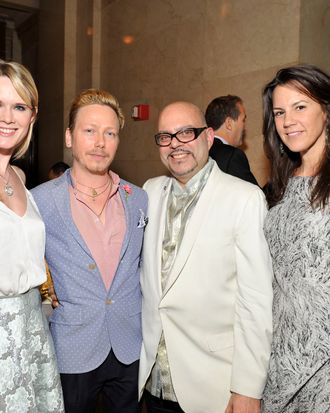 Ellianna Placas.
Photo: Ryan McCune/PatrickMcMullan.com
A spokesman for Essence confirmed to the Times late yesterday that their first white fashion director, Australian-born Ellianna Placas, has left the magazine. This is particularly notable considering the backlash that occurred when Placas was hired in July 2010. At the time, the publication's former fashion editor, Michaela Angela Davis, responded to the news by tweeting, "It is with a heavy heavy heart I have learned that Essence magazine has engaged a white fashion director, this hurts, literally, spiritually." She later clarified on her Facebook page:
It is personal and it's also professional. If there were balance in the industry; if we didn't have a history of being ignored and disrespected; if more mainstream fashion media included people of color before the ONE magazine dedicated to black women 'diversified', it would feel different.
A few months later, in September 2010, a group of black women demonstrated in front of Essence's headquarters at Time Inc. during New York Fashion Week, marching silently and holding signs printed with the names of the magazine's past fashion directors.
But despite all the fuss, Essence defended their decision to hire Placas and kept her on; Angela Burt-Murray, then the edit0r-in-chief, wrote a thoughtful statement that highlighted the excellent freelance work Placas had done for magazine as well as during her tenure at O: The Oprah Magazine. (Burt-Murray was later replaced by Constance White in March 2011.) It's unclear why Placas has stepped aside, and her replacement has not been announced.