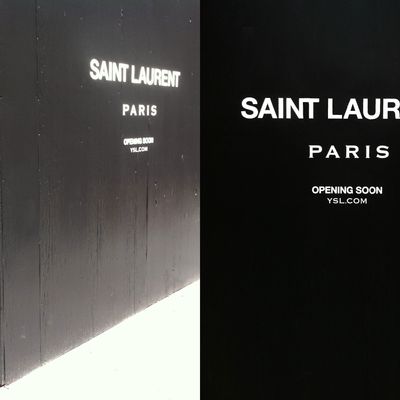 Saint Laurent's new logo, revealed on the soon-to-be-opened Soho storefront.
Photo: Kailey Kramer
Yves Saint Laurent officially released the new Saint Laurent Paris logo on their Facebook page today, which shows two black boxes stacked on a marble tabletop. As previously reported, the font — printed in white against a black background — is square, simple, and fuss-free; as promised, it's much more like the label's 1966 lettering than the swirly Yves Saint Laurent typography of recent years. (Also, remember that the label is keeping the YSL "Cassandre" logo on all of its beauty products.) Despite Hedi Slimane's nod to the label's past, Facebook commenters have responded to the new logo with vehement hostility. "Where's the iconography? This is not iconic," protested one, while another accused the new logo of looking a lot "like Zara"; a third very astutely observed that "YSL without the Y is not YSL." It'll hopefully be easier to get onboard with these changes once we get to see the clothes, shoes, and bags that come with them.