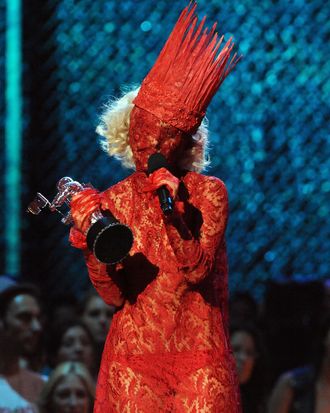 Can't. Even.
Photo: Jeff Kravitz/FilmMagic
MGA Entertainment brought a $10 million lawsuit against the singer on Tuesday, after she asked the toy manufacturer to take out the figurines' voice chips, which means they won't be in stores for the holiday shopping season — part of Lady Gaga's supposed plan, because she wanted to release them when her new album and Fame perfume debut next year, MGA claims. (MGA also gave her licensing company a $1 million advance to make the dolls.) But, according to the Daily News, a Manhattan judge decided yesterday that Gaga and her entourage won't be ordered to give final approval to the prototypes, meaning Gaga's request for them to be silenced is still valid.
We hope the deal doesn't fall apart, because the dolls sound hysterical:
Through an intermediary, Gaga asked that the doll's facial structure "be more supermodel-like."

"Think a prettier version of Gaga," MGA officials claim they were instructed in emails. "Thin out the cheeks and sharpen the jawline. Give her more of a cat-eye and sexier, poutier lips."

[…]

They said Gaga loved the doll's silver Grammy outfit and green crystal dress and that she also wanted to include a "Born This Way" zombie ensemble.

Gaga's people even suggested making a doll with a removable head to reveal a bloody stump.
And everybody knows that a bloody stump can't talk anyway.