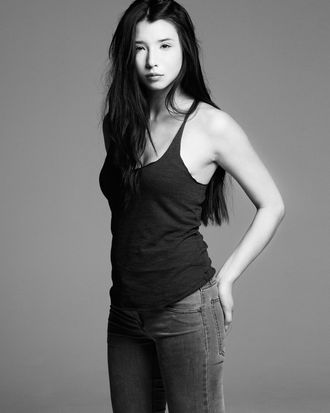 The second installation of our Game Face series, in which enviably complexioned women (such as Amber Valletta) share their skin-care regimens.
Lily Kwong is still young — 24 to be exact — so she has time on her side and not a single smile line. Still, as a working model (check out her busy Twitter feed to follow her adventures both on and off the runway), her face gets assaulted on a daily basis with different foundations, powders, and sometimes not-so-pristine brushes. In fact, earlier this summer, Kwong's complexion went through what she describes as a "skin crisis."
"I was breaking out along my cheeks," she told us. "It was horrible! Obviously, you're panicking if your skin is not at its best and you have to be in front of the camera. I basically became a chemist and started trying everything — I had enough products to fill a kitchen table." Fortunately with the help of Manhattan dermatologist Macrene Alexiades-Armenakas (aka "Dr. Macrene"), Kwong coaxed her skin back to its former glory in just a couple of months.

My New Routine:
1. Wash with only warm water: "All I use in the morning is lukewarm water. Since I cleanse very thoroughly at night, I don't feel like I need [products] in the morning. I never use hot water. Skin doesn't like extreme environments, so it's best to stay away from super hot or super cold."
2. Dry Gently: "After cleansing, I pat dry with a towel. I used to basically scrub my skin dry, but that's not a good idea because it's irritating."
3. The Right Moisturizer: "Before I started using this cream by my doctor, I had enough products to fill a table. But this has everything that you need in one jar — I call it my pot of gold. I apply a thin layer, all over my face and neck. I don't even need an eye cream anymore because it replaces that as well. It's got coffee and green algae and it just rejuvenates everything.  It's expensive, but worth every penny. 37 Extreme Actives, $295, Dr. Macrene
4. Rx: MetroGel: "Dr. Macrene prescribed this to help with my mild rosacea. It doesn't cause any irritation and it has totally worked for me." MetroGel, prescription only, MetroGel

5. Lightweight Sunscreen: "I switched sunscreens because what I was using before was a cream, and this one by Skin Ceuticals has that milky texture Macrene told me to use. It has an SPF of 50 and a little bit of a tint, which evens out my skin tone when I'm not wearing makeup."  Skin Ceuticals Physical Fusion UV Defense Sunscreen Broad Specturm SPF 50, $32, SkinCeuticals
6. A Milky Cleanser: "Dr. Macrene is always urging to wash with anything that's milky because it doesn't create a film on your skin. So in the evening I wash my face with lukewarm water and Clinique Take the Day Off cleanser to remove my makeup and sunscreen. If I had a photo shoot that day, I'll wash with the cleanser a couple times to get all the makeup off." Clinique Take The Day Off Cleansing Milk, $27, Clinique
7. Another Rx: Finacea: "When I get blemishes, I spot treat with Finacea. This [prescription] cream clears out all the dead skin cells that block your pores. I also use this in place of exfoliating." Finacea, prescription only, Finacea
8. Vitamin Therapy: "I also take 2500 grams of vitamin A each day. This definitely helped with my skin clarity and has been a big game changer."