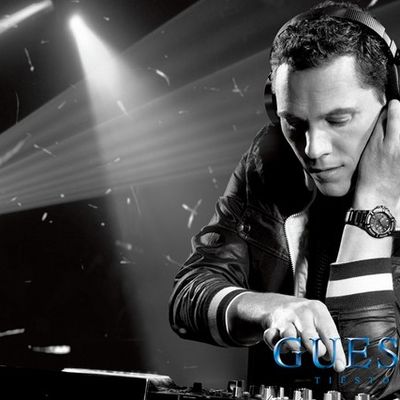 That's probably the limited-edition watch.
Photo: Courtesy of Guess
And women, too, we guess. The brand collaborated with the producer on a limited-edition watch (available in August) and a 22-piece capsule collection including the aforementioned pants "with indigo treatments and zipper detailing, graphic print T-shirts reminiscent of the digital light shows and video projections during a Tiësto performance," and leather outerwear, according to a press release. The apparel will hit stores in October, priced from $32 to $368. Paul Marciano, CEO and creative director for GUESS?, Inc. said, Tiësto "is more than just a DJ — he is very multi-faceted and truly understands what it takes to build a brand. There is no better choice in music today to represent the free-spirited, adventurous and sexy Guess lifestyle." And Tiësto once told The Cut that he wanted Tom Brady ("like a really good looking guy who works out") to model for his Clvb Life clothing line. Now, the question is, how do we get Tom Brady into the black skinny-fit jeans? HOW?