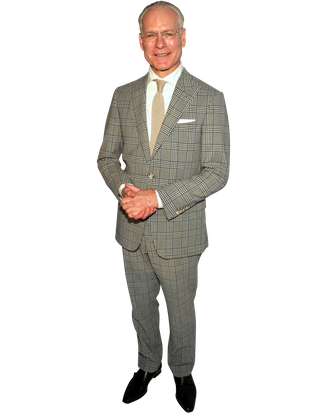 Project Runway's tenth anniversary party, held on the High Line in last night's withering temperatures, drew dozens of alumni from all of the show's previous seasons, including some of the more infamous cast members like Kenley Collins and Mondo Guerra. Of course, Tim Gunn and Heidi Klum were there as well, both bafflingly free of sweat and happy to chat while the rest of us mopped our brows. "I don't know that I am comfortable in this suit," confessed Gunn. "I am not uncomfortable. I will say this: It hides a multitude of sweating scents, so I am grateful for a man's jacket."
As for his favorite moment from the last ten seasons, he recalled:
I don't think this made the final edit, but once we were judging evening looks, and Nina [Garcia] put her hands over her eyes and said, "If I see one more one-shoulder gown I am going to scream!" And Michael [Kors] took her hands off of her eyes and said, "Nina, how many neckline treatments are there? I can count them on one hand." I don't know if that part made the show, because I think the producers were afraid of embarrassing Michael and Nina, but I thought, "No! People need to hear this. How much innovation and experimentation can you do?"
Amen, brother. Click ahead to see Stacey Bendet, Debbie Harry, Rebecca Minkoff, and other attendees.