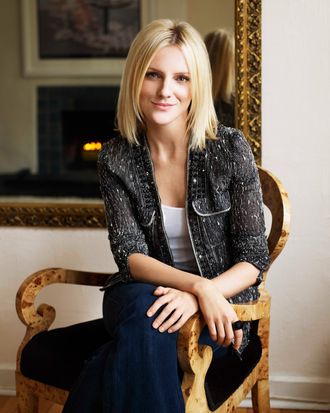 Laura Brown.
Photo: Courtesy of Hearst
As the features–special projects director at Harper's Bazaar, Laura Brown wears a number of hats — or, as she puts it, "I'm the magazine's resident jazz-hander." Today, she debuts a new online show, "The Look," on Hearst's YouTube channel. (Her first episode has Kim Kardashian doing her makeup. The result? "She used her own makeup colors, so I wind up looking like an Armenian lion.") Regardless, she always looks impeccable both on- and off-camera, despite all her running around. Originally from Australia, she's one of those maddening women who's constantly in jeans and a tank top but still manages look polished and interesting. We spoke with Brown on the phone yesterday about her personal style, shoe closet, and the fall trends she'll be steering clear of.
When it comes to your own personal style, would you say that you have a uniform?
I'm kind of one-note. It was my birthday a couple of weeks ago and the girls at work bought me five Alexander Wang tanks. I wear them in rotation, pretty much. I have a ton of dresses, but I mostly just lend them out to my friends. I call it Laura Brown's Dress Barn. My friends come over to the barn and I loan them things. But for a long time, I've been all about jeans and tanks and an impractical shoe. I don't wear skirts, because they make me feel too skirty, you know what I mean? It makes me feel contrived. Overall, you know the feeling when you're wearing a great trouser or a great long jean with a heel, and how good you feel strutting about? That's what I go after. I have to be encouraged to really pull it out sometimes because my go-to is much simpler. I'm quite simple-minded at the end of the day.
How would you define an impractical shoe?
Well, if I'm wearing jeans and a tank top, I'm definitely wearing some sort of contraption on my feet, always. I don't like to wear flats to work. I've worn them a couple times and people were like, "Oh, you're that tall?" And I was like, "We'll never speak of this again."
Are you one of those strange people who finds heels perfectly comfortable?
Well, I wear those little Dr. Scholl's pads in the bottoms of them. When I talk to women who don't wear those cushions, I'm like, "Are you mental?" I couldn't get by without those. And it's not like I'm wearing these heels to go hiking. I walk my two blocks to the taxi in the morning, and then I get to work and I totter around the office and I get another taxi and then I go to a party and get dinner and go home. I'm not running miles in them. But I won't wear a heel that isn't comfortable.
Any particular foot contraptions you've been wearing a lot of lately?
My favorite shoes are actually from Raf Simons's last Jil Sander show. They're pink and blue metallic slingbacks with black trim. They're so freaking major. I saw them and I just went nuts and couldn't think of anything else, which doesn't often happen anymore because I'm a grown-ass woman, but I was just like, "I must have those." I always like a red shoe, and I have a really cool pair of yellow Charlotte Olympia ones. I don't wear any yellow apart from my feet, but they're super cool.
What does your shoe closet look like? How do you keep them all organized?
It looks unseemly. I have these Container Store things, those clear boxes, and I think I'm really organized, but then they just ooze out anyway. I don't have a walk-in closet, but maybe someday when I marry up I will.
Do you have any really dependable go-to brands for clothing?
I wear a lot of Alex Wang and Theyskens' Theory, which is so good. If I do wear a dress, I wear Acne, and I've never met a Vicky Beckham dress I didn't like. If I married up, I would just wear basically everything Raf Simons has ever designed, ever. His last Dior collection was just so extraordinary. He came into the office for a meeting once, way before he went to Dior, and I just threw myself at him.
Do you have a personal fashion icon?
Oh crap, there are lots of people. I'd say my dear old friend Rose Byrne. I've known her for fourteen years. She wore a jumpsuit to the SAG awards and I thought that was badass. She always wears the right kind of shirt, kind of slouchy, and she just has a nice way of putting herself together. 
Where do you shop?
I've been known to do obscene things in bed on a Saturday morning with Net-a-Porter. Suddenly you spend like, $1,000, and you're like, "Oh my God." I like to go for a bit of a hit sometimes at the Gap, and I used to go to Top Shop, but not so much anymore. I'm lucky enough that if I want to borrow a dress for an event, someone will lend it to me, so I don't like to spend tons of money on really fancy things. I do like J.Crew, but more so because of the way it's styled, and I think I'm too lazy to style myself like that.
Do you wear jewelry, too?
I've started to wear it more. I used to wear none. Now I have this awesome, art-deco-style ring by an Australian jeweler named Canturi; I wear it all the time on my index finger. I also wear this really cute ring by Petra Nemcova on my pinky. And I love African jewelry, those wonderful textures and prints on bracelets and bangles – I'll stack them all on one arm with a tank top.
Are there any big trends for fall that you definitely won't be wearing?
I'm not doing leather pants, I'll tell you that. And I know that these have been happening for a few seasons, but I had a total revolt against peplums. I would never do anything in peplum. But to tell you the truth, I'm not that big on trends. I think the more that you work in the industry, the less you're swayed by it. You appreciate it but you don't fetishize it as much. Also, I'm going to say it: I don't like oxblood leather. I know it's huge for fall, and other people look marvelous in it, but I shall not be wearing it.
Are there trends you see other people wearing that you hate?
I hate nude patent pumps. A lot of actresses wear them on the red carpet because they have to wear neutral, but patent kills me — kills me! For some reason, I really get my knickers in a twist over that one.
Do you think being Australian affects your style?
Oh yeah, we're more laid-back. We're quite simple folks, we Aussies. 
Is there anything that you're saving your pennies to buy?
No. Is that weird? I'm really not.
Do you remember the first designer item that you ever bought?
Yes, Miu Miu. A green metallic belt. I bought it in London on Bond Street, and it was like, £ 100. It cost a fortune, and I was 22 or 23 years old. The shop was so fancy, and I felt like an urchin, but I bought it anyway.
Do you still have it?
I do. I haven't worn it in ages. I've been carrying that bloody belt all over the world, actually, because I think that one day that I might wear it again.
You can see Brown's first YouTube show for Harper's Bazaar here.