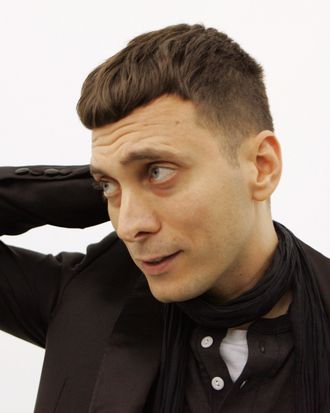 Hedi Slimane.
Photo: Miguel Villagran/Getty Images
Longtime Slimane supporter Vogue Paris booked an exclusive Q&A with the designer about the massive overhaul he's undertaken at the helm of YSL. The full eight-page feature will hit French newsstands on Friday, but in the meantime, WWD got a preview of its contents, including a tidbit about Slimane considering couture (a rather trendy move for luxury labels these days):
Haute couture is a legitimate subject for Yves Saint Laurent and could resume one day," Slimane says, without giving time lines or defining the precise format. "The priority today is to revamp and redeploy the luxury ready-to-wear."
Slimane also claimed that he wasn't contacted about the YSL position until last November, defying previous rumors that he'd been waiting in the wings to usurp his predecessor Stefano Pilati for years. The Vogue piece will also include the first "official look" of the label's fresh new branding, which has the Saint Laurent Paris name spelled across a square black background. So, apparently not like this.