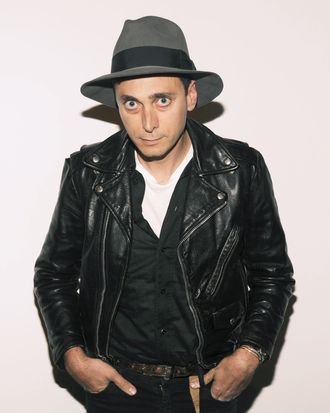 As previously reported, the first two YSL collections by newly-appointed head designer Hedi Slimane were only shown to buyers, which means no critics got to see the label's resort and menswear collections, presented at a showroom in Paris this week. The rationalization for all this secrecy seems to be a combination of the house wanting to pad Slimane's transitional period, since he's planning some big-scale brand overhaul that involves a name change and other modifications, as well as their understandable desire to avoid sharing the spotlight with Raf Simons's big Dior debut this week. Anyway, none of the buyers invited to see the collection were asked to sign a non-disclosure agreement, so a couple of them recounted what they saw to the FT's Vanessa Friedman.
She writes:
The resort collection is said to be inspired by the early days of Saint Laurent — think of the famous photo Helmut Newton took for French Vogue in 1975 on Rue Aubriot, with a nude woman in stilettos standing next to another woman in a skinny tux with a blouse dripping a bow if you want the quick-twitch reference. So reports are of skinny suiting, always a Slimane signature, but also, more surprisingly (and interestingly) little silk dresses with bias-cut mini-skirts covered in tiny dots, the tops referencing the tux blouse, both sleeved and not, with a touch of Ossie Clarke.
Well, that sounds pretty. WWD also dug up some anonymous sources, who described the same cigarette pants, tuxedo shirts, pinstripes, and Helmut Newton picture. Also: hotpants! The palette was said to be mostly black and white, with some pieces in red, bright pink, and animal prints; materials also included sequins, and silver and gold lamé. The paper confirms that Slimane has kept the popular Tribute shoe around, but made his own pointy-toed additions in colors like bright yellow, fuschia, and blue.
Both Friedman and WWD noted that buyers seemed unanimously pleased with Slimane's work, and it seems likely that once given the chance, critics will be equally thrilled. In related news, WWD reported that Slimane also designed all the the hangers, clothing racks, seating, and marble-topped tables in the showroom, all as part of a plan to revamp fixtures in the label's retail stores.