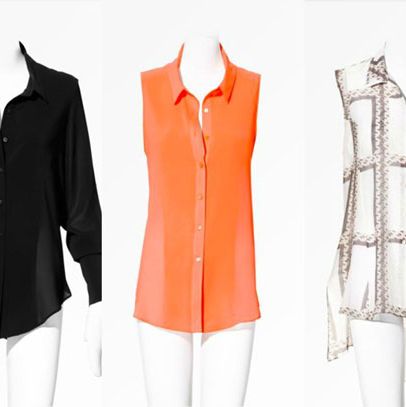 The  Theyskens' Theory and Helmut Lang sample sale opened to the public today, and besides air-conditioning and shelter from the torrential rain, the best part of the sale is the sheer quantity of merchandise. On the Theyskens' Theory side, blazers and silk tops fill multiple racks and are available in a range of styles and sizes. Though there are fewer dresses and skirts, chances are you'll still find something good. Another bonus: A lot of what's on the racks is still more expensive online, like the Drajee Igem dress, the Brunla Franky top, and the Jigal Folgna jacket (no additional discount for being able to pronounce those names). Theyskens' handbags take up a small corner by the door and include everything from dark suede satchels to neon trim purses, priced between $79 and $169.
As for the Helmut Lang side, draped knit dresses and dark jackets dominate. Certain dresses are only stocked in sizes zero through four, while others fall between six and ten, but for some, there's a full size run on hand. The variety of jackets (think leather, fur-trimmed, wool, and/or feathered) spans petite through large. Skirts and pants hang in a separate area and include pebbled leather pants in gray and blue, the Fulcrum Print skirt, and the leather Side Waist Tab skirt.
One potential problem at the sample sale is that most items aren't individually marked with prices; instead there's a sign listing the price ranges. So, to find out whether you can take that silk-printed Helmut Lang number that you've already fallen in love with home to meet your boyfriend and/or cat, you have to ask a salesperson to scan it and then determine if the cost is a deal-breaker. However, one big plus is the dressing room — spacious and filled with empty racks behind a curtained area, with small mirrors scattered throughout. Bottom line: Run there! Now! While there's still lots of great stuff to spend your money on.
93 Mercer St. at Spring St.; W (10–8), Th (8–8), F–Sa (10–7), Su (11–6). Through 7/22.
Theyskens' Theory
Leather: $299
Jackets: $189-$449
Pants: $129
Skirts: $119
Sweaters: $109-189
Tops: $99-149
Bags: $79-$169
Casual Bottoms: $69
Dresses: $59-$199
T-shirts: $49
Belts: $39
Helmut Lang
Belts: $39
T-shirts: $49
Casual Bottoms: $69
Tops: $79-139
Dresses: $79-239
Skirts: $79
Bags: $99-269
Sweaters: $109
Jackets: $189-249
Leather Pants: $229
Leather Dresses: $299
Leather Jackets/Outerwear: $349
Fur: $399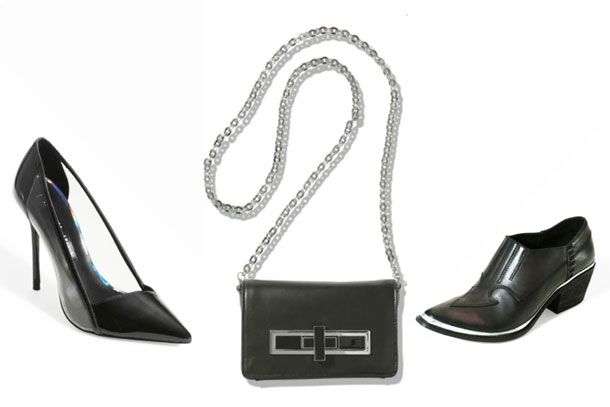 Shoes and Bags
Shoes are going for $119 and are located in the back right corner of the store (near the dressing room, which is sure to cause lots of crowding). A number of the styles for sale are still full-price online. Two tables were full of bags in a variety of neutrals, and there seemed to be multiples of each one. Shoes: $119 Bags: $79-$169 Belts: $39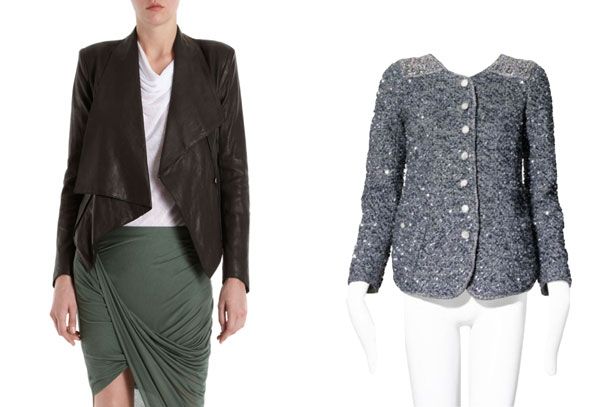 Jackets
Sweaters and cardigans come in a variety of colors, while blazers and leather jackets came mostly in black on the Helmut Lang side. The Theyskens' selection included tweed jackets in white, black, and blue, and a few more lavish options with beads and irridescent trim. There are a good number of fur-trimmed coats and heavier wool outerwear pieces. Helmut Lang Sweaters: $109 Helmut Lang Jackets: $189-249 Helmut Lang Leather Jackets/Outerwear: $349 Helmut Lang Fur: $399 Theykens' Theory Sweaters: $109-189 Theykens' Theory Jackets: $189-$449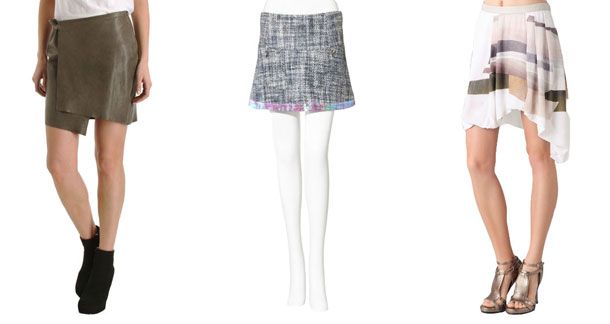 Skirts
There aren't a ton of skirts. Helmut Lang's signature drapey knit and silk skirts were stocked in both solids and prints and available in a range of sizes.Theyskens' styles include shorter tweed skirts and flowy pleated options. Helmut Lang Skirts: $79 Theyskens' Theory Skirts:$119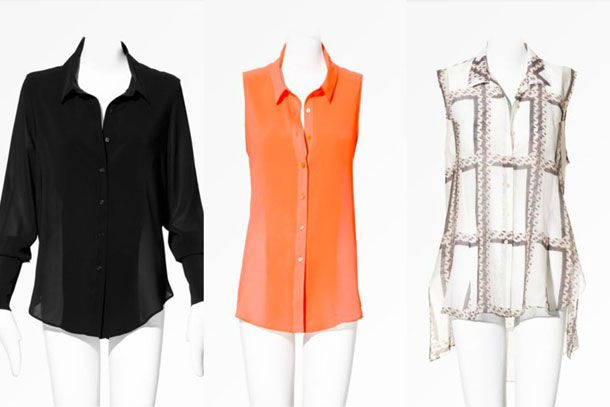 Tops
There are plenty of work-appropriate silk shirts (both short and long-sleeved) in solid colors and prints from Theyskens' Theory. Helmut Lang's offers were a bit more casual, with lots of cotton, drapey (of course) tops and tanks. Basic tees, divided by style, are hanging and piled in boxes off by themselves, in a variety of sizes. Helmut Lang Tops: $79-139 Theyskens' Theory Tops: $99-149 Theyskens' Theory T-shirts: $49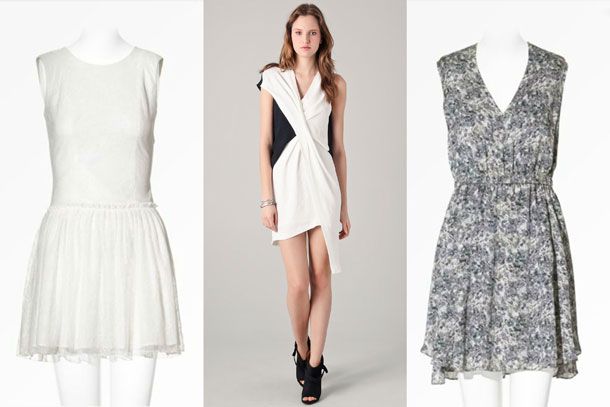 Dresses
There are Helmut Lang drapey dresses galore in olive, grey, white, and paintbrush-patterned colors. There are a few leather dresses, but most are silk or cotton. Theyskens' Theory includes some more structured frocks, like a pretty eyelet number, pictured. Helmut Lang Dresses: $79-239 Theyskens' Theory Dresses: $59-$199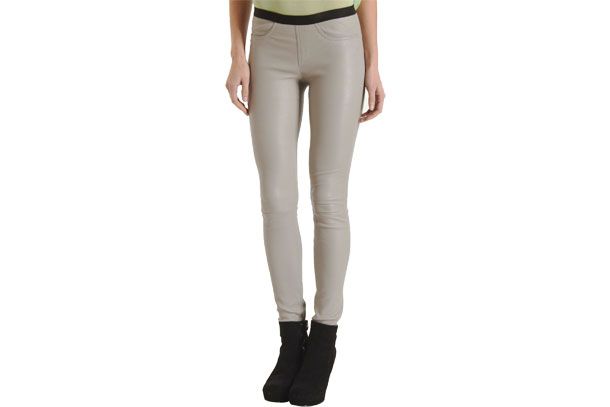 Leather Pants
Should you (like several of us) be excited to hop on the leather pants bandwagon this fall, this sale might not be the place to do it. The available options were black with grommets, taupe, or leather in the front and normal denim in the back. Those looking for a basic leather pant should search elsewhere. Theyskens' Theory Pants: $129 Theyskens' Theory Leather: $229 Helmut Lang Casual Bottoms: $69 Helmut Lang Leather Pants: $229