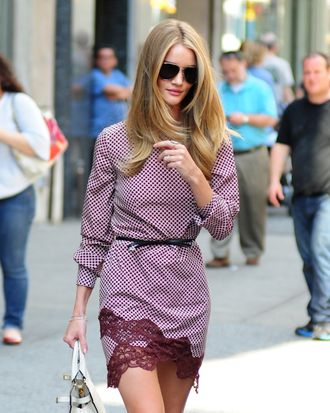 Rosie Huntington-Whiteley.
Photo: Alo Ceballos/FilmMagic
Several days after announcing her split from Tom Cruise, Katie kept her date to appear on the series's new season, showing up at Parsons last week, where she presumably mingled with Isaac Mizrahi and host Carolyn Murphy — and not Rosie, who initially signed on to present the program. According to the Post:
A source told us, "Literally days before filming, the show suddenly had no host. Rosie had been pushing really hard for the job. She'd charmed everyone. But then with less than three weeks to go, Rosie pulled out to do Mad Max, creating a huge drama. It put the production in a terrible position, and the Weinstein Co. even threatened to sue Rosie."
Another source claims Huntington-Whiteley didn't sign a contract, and Weinstein Co. quickly auditioned Karolina Kurkova, Hilary Rhoda, and Rachel Roy, before settling on Murphy. But what is it about this Mad Max: Fury Road? Guess we'll have to see it to find out; however, we probably won't.
Update: To clarify, Project Runway: All Stars' second season will premiere later this year. We reached out to a rep. for the franchise for more details, but she said no formal announcement would be made until later this summer or early fall.