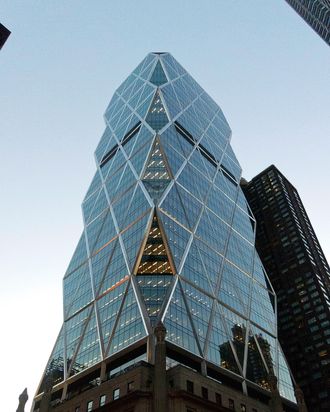 Hearst. Being vigorous.
Photo: Ben Hider/Getty Images
Somehow, this slipped by us: Earlier this month, a federal judge conditionally granted Xuedan "Diana" Wang's lawsuit against the publisher "class-action" status. Wang, if you remember, was a former unpaid intern at Harper's Bazaar from August 2011 to December 2011 and went to court in February, claiming that Hearst Corp. violated federal and state wage and hour laws by not compensating her even when she frequently worked there full-time. Guidelines from the U.S. Labor Department say that unpaid internships must be educational and "for the benefit of the intern," but, the Times reported, "Wang's lawyers said that by treating her and others as interns rather than regular employees, they were denied not only wages, but also Social Security contributions and the right to receive unemployment insurance and workers' compensation."
She's now joined in her efforts by "a group" of former Hearst interns from Harper's Bazaar, Cosmopolitan, and Good Housekeeping, according to The Wall Street Journal, and apparently, "all persons who worked as unpaid or underpaid interns at Hearst's magazines between February 1, 2009, and until the case is resolved" can apply to be a part of the class at this point. Sign-up sheet's on the door, guys! Paul Luthringer, a Hearst spokesman said, "The facts will show that this case is without merit. We will vigorously defend our programs which are soundly within the law and offer young people an up-close view of the magazine business." Vigorously. And there's still no word from Dana Lorenz of Fenton Fallon, also being sued by Wang. She interned for the jewelry designer last summer.