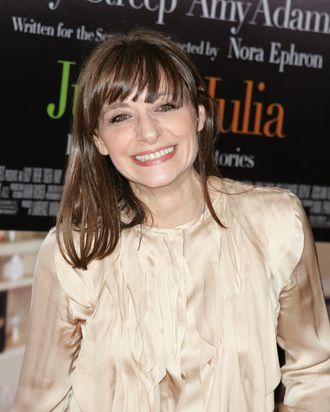 Writer Joan Juliet Buck.
Photo: Jim Spellman/WireImage
You may recall that, earlier this year, writer Joan Juliet Buck broke her silence about profiling Syria's "first lady," Asma al-Assad, for Vogue magazine's March 2011 "Power Issue." When the Arab Spring progressed and the realities of Bashar al-Assad's dictatorship became obvious, Vogue removed the piece from their website in May 2011 and eventually issued a statement about it. Meanwhile, Buck says she was instructed to not discuss the matter with the press. Later, Vogue neglected to renew her contract for 2012, even though she'd written four cover stories the year before and worked as a contributor for dozens of years. Freed from any obligation to keep quiet, Buck has since denounced Vogue's decision to run the piece, explaining that she felt uncomfortable with the assignment to begin with and then begged her editors to hold the story once the Arab Spring began (shortly before it was published). In the latest issue of Newsweek, Buck writes a lengthy piece that gives a blow-by-blow account of the debacle.
Titled "Mrs. Assad Duped Me," Buck explains that she was assigned to write a profile of Asma in late 2010. Her Vogue editor — who remains unnamed — told her, "We don't want any politics, none at all," and instructed her to stick to cultural topics like museums and art. Buck finally agreed, because, as she put it, "when else would I get to see the ruins of Palmyra?" 
Her Newsweek article includes all of the ominous details that her Vogue piece didn't: anonymous casket sightings, a bugged cell phone, a mysterious program that someone named "Ali" installed on her laptop when she was out of her hotel room. She explains just how weird it was to go to the al-Assad's glass-walled house for a lunch of fondue. But she still holds fast to the fact that she truly had no idea of the horrors that Bashar al-Assad was capable of committing as a dictator:
There was no way of knowing that Assad, the meek ophthalmologist and computer-loving nerd, would kill more of his own people than his father had and torture tens of thousands more, many of them children.

In December 2010, there was no way of knowing that the Arab Spring was about to begin, and that it would take down the dictators of Tunisia, Libya, and Egypt.

There was no way of knowing, as I cheered the events in Tahrir Square, that I would be contaminated because I had written about the Assads. There was no way of knowing that this piece would cost me my livelihood and end the association I had had with Vogue since I was 23.
Buck is the first to assert that she is not a political journalist, and her critics are all too happy to agree (her awkward description of Syria as "sound[ing] sinister, like syringe, or hiss" has already spawned a mocking Twitter hashtag, #countriesbyvoguewriters). It's clear that she deeply regrets glamorizing the al-Assads and wishes she'd known better. And although she doesn't spend too much time pointing fingers, it would seem that her Vogue editors were more than happy to let her take the fall for decisions they made. Perhaps she's better off without her job there, after all.