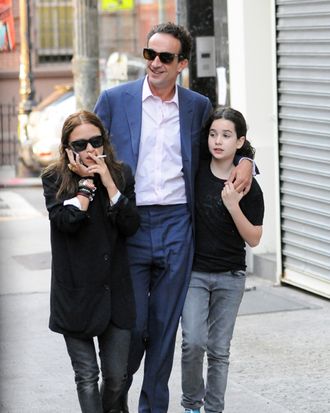 Weak!
Photo: Elder Ordonez/INFphoto.com
Since writing back in May that the Carlyle Group managing director and Mary-Kate Olsen had been together for about a month, and were "head over heels" for one another, the Post has been following the couple closely, from the gym to a benefit gala for MoMA PS1. Buried in an article about Olivier possibly buying a townhouse below 14th Street to be closer to Mary-Kate, "Page Six" reported that a "source close to the pair told us Olsen and Sarkozy have just headed abroad for a romantic two-week vacation." Two whole weeks? What's a tabloid to do? Answer: enlist a French speaker to type "Olivier Sarkozy et Mary-Kate Olsen" into Google.fr and round up a bunch of articles from the last month mentioning the mai-décembre relationship.
From yesterday's newspaper (the article entitled "French mock little lover Sarkozy"):
"Only history will tell if this liaison will last," said Elle magazine about Sarkozy and Olsen. "But, one thing's for sure, Olivier Sarkozy has had a weak entrée into the club of French lovers."

Olivier's half-brother married sexy actress model Carla Bruni.

Elle magazine described Olivier as a "younger, taller, and better tanned" version of his more famous sibling, and refers to a family dynasty that started with their father, a Hungarian aristocrat who bedded his own nanny at the tender age of 11.
And, apparently, "other news outlets" said Sarkozy and Olsen would be more interesting to watch than OG Sarko and Carla Bruni. We're not taking sides, but we are wondering how the Post missed this July 11 gem from Voici via Pipole.net, which we translated for your reading pleasure:
Age? No way, 17 years' difference — you see that everyday. The real problem is that the banker measures 1.82 meters (5'11") and the girl is only 1.50 (4'11").*

It's the ultimate and insurmountable problem: with her 1.50 meters, the blonde is only two inches taller than Olivier's daughter — little Margot who is just nine and a half years old … Visually, it's like Adriana Karembeu flirting with a dwarf from Fort Boyard.
Adriana Karembeu? A Slovak fashion model who once held the Guinness world record for longest legs among women. The dwarf from Fort Boyard (a strange Legends of the Hidden Temple-like French television series)? Here. And that is how the French scoff.
* This article has been updated from its original version.