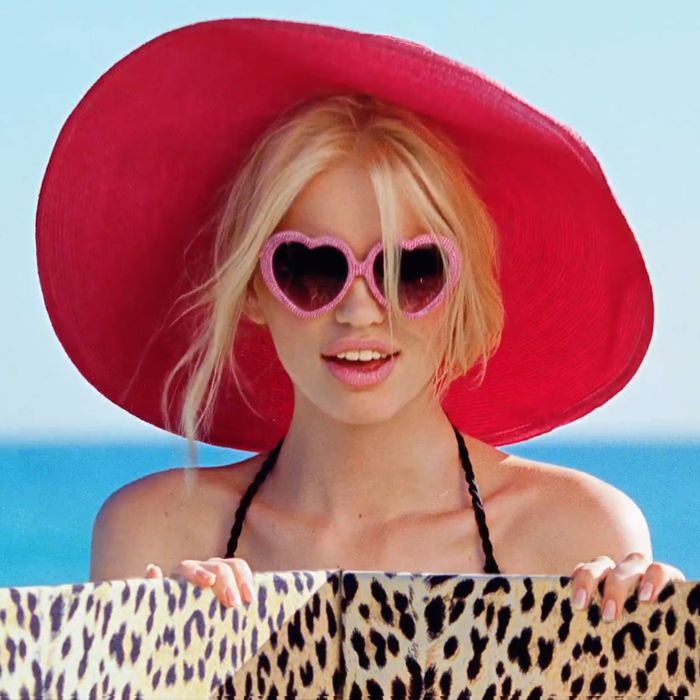 The fashion crowd got down last month, from Stella Tennant on the set of Givenchy's fall campaign to ballet and break-dancers decked out in Martine Rose's menswear to Chloë Sevigny and Derek Blasberg's time-traveling almost–Lindy Hop. Meanwhile, Daphne Groeneveld channeled Brigitte Bardot in "And Dior Created Woman," Bruce Weber went underwater with model Simon Nessman in Miami, and model Erjona Ala won over a band of Williamsburg skateboarders. Ah, summer is here. See these clips and more in our roundup.
"And Dior Created Woman" by Jonas Åkerlund
In this And God Created Woman–inspired clip for Dior Addict fragrance, Daphne Groeneveld starts off lounging Bardot-style on the sand in St. Tropez, before hitting the streets and blowing kisses to passersby, doing the cha-cha barefoot in a café, and finally levitating with a novelty-size perfume bottle in tow above men twirling colorful umbrellas. And there's a cat in the video. Cat video alert!
Emma Stone for Vogue's July 2012 Issue
The magazine's cover girl tells the camera, "Yesterday, we had a lot of really masculine suits and it kind of looked like Charlie Chaplin gone mad … Whenever I'm able to play a character in a still shoot, it's actually really fun because it feels like acting … And then today has been really, really feminine and lacy, so it's both sides of being a woman. Being vampy and lacy is not my normal repertoire, so it's been fun finding that side of my personality"  — and dressing it in Givenchy, Jil Sander, and Versus.
Behind the Scenes of Givenchy's FW 2012 Ad Campaign
The only thing better than seeing Stella Tennant dance is seeing Stella Tennant dance while wearing Dov Charney glasses.
"Wet and Wild" by Bruce Weber for Giorgio Armani's Acqua di Giò Essenza
Simon Nessman takes a dip in Miami to promote the designer's new scent. Just going to type it: The underwater footage of the baby-faced model reminds us a lot of Nirvana's Nevermind album cover.
"The Erjonas" by Bon Duke
Norwegian model Erjona Ala, clad in several Prabal Gurung ensembles, whips a group of skateboarding boys into shape in Duke's collaboration with the former CFDA Fashion Incubator designer. No one ogles Erjona when she tops off her outfit with one of Gurung's fall 2012 Pope-height visors — this was shot in Williamsburg, after all.
"Fashion Fetish" by Dasha Zhukova
In this silent clip for SHOWStudio's series, Chloë Sevigny spots a pleated Prada dress, transporting her back to the twenties, where she runs into (and away from) a dapper Derek Blasberg. The two end up doing the Lindy Hop or something like it, until Chloë comes to and grabs the dress off the rack, present day. Also starring Peter Brant II as the maiter.
"Martine Rose" by Paul Gore
Now this is how you advertise menswear — with pirouettes and grand jetés … and a killer right hook, for good measure.
The Making of Prada's Fall/Winter 2012 Men's Advertising Campaign
Or you could show Willem Dafoe chuckling on-set and Gary Oldman reading the newspaper.
"Get Richard" by Justin Anderson for Vogue Italia
In this short, a group of face-net-wearing models drive designer Richard Nicholl, who is bound and gagged, out to the desert and bury him up to his waist in front of a microphone, then speed off. Vogue.it says it's "based on a true story," in which case, we'd love to hear it.
"The Daphne Guinness Collection" by SHOWStudio
Nick Knight sat down with Guinness ahead of her record-breaking clothing auction last week to talk about which items she'll miss the most, her relationships with Alexander (McQueen) and Gareth (Pugh), why she skips most runway shows, getting dressed in the windows of Barneys last year, and her hatred of prints. (Note: Set aside some time for this one, as it's fifteen minutes long.)