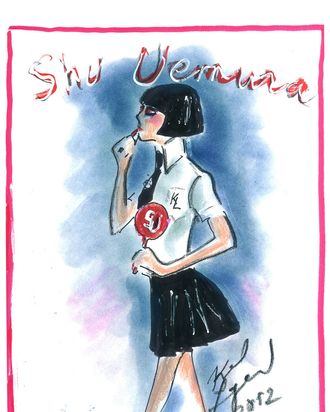 Karl Lagerfeld's sketch of Mon Shu.
WWD took a first look at the designer's seventeen-piece holiday collection for the Japanese beauty firm; it includes four lip shades, two different eye and cheek palettes, a dark purple gel eyeliner, two pairs of false eyelashes, an eyelash curler, several nail colors, a cleansing oil, a mini brush kit, and a makeup box, priced between $27 and $368. The packaging is decorated with the Lagerfeld-created character named Mon Shu — like "mon chou" en français — who has "red eyes and a jet-black bob, dressed in Lagerfeld's signature high white collar and black tie." Karl explained, "I wanted to invent my personal vision of a Japanese manga," and has actually been using the brand's makeup instead of pastels on his sketches for years. Anyway, Shu Uemera plans to stock Karl Lagerfeld for Shu Uemura in the U.S. online, U.K., and Canada in October,* and in even more countries in November. When asked about the future of the collection, general manager Vincent Nida responded, "We enjoyed very much working with Karl Lagerfeld, so everything is possible." Everything.
* This post has been updated from its original version.