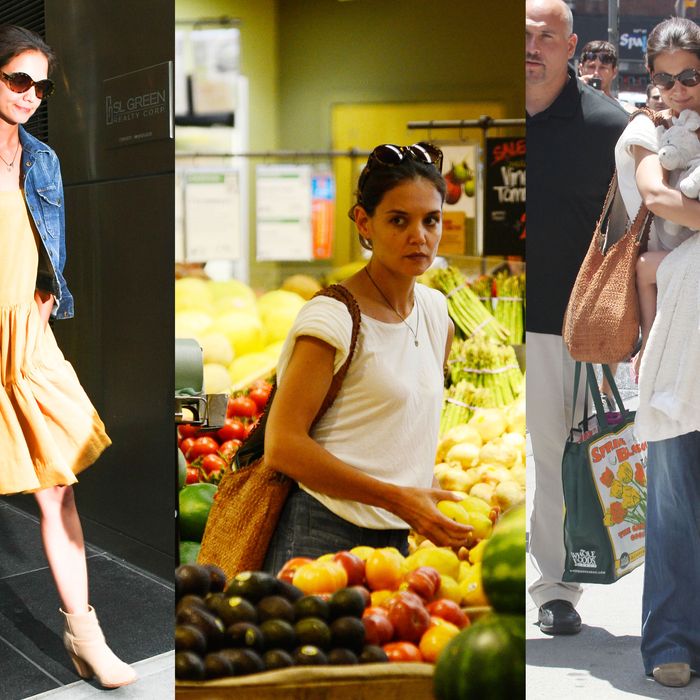 Katie Holmes at her lawyer's office and at Whole Foods.
Photo: D. Hudson / Splash News, TK / Splash News, Oliver/ Splash News
While the rest of us would have done practically anything to avoid leaving our air-conditioned apartments this weekend — including pay other people to deliver food to our apartment instead of getting it ourselves — Katie Holmes carted Suri along on her third pilgrimage to Whole Foods this week. She was photographed at the fish counter and on the sidewalk heading back to her apartment, cradling her daughter along with an armful of blankets and several stuffed animals, while her handler carried her groceries. One might wonder why she didn't just ask said handler to make the trip for her, since he wound up having to go anyway, but no matter — maybe she genuinely likes to elbow her way through a crowded supermarket so she can select her own peaches.
In other, perhaps more important news, Holmes paid a visit to her lawyer on Saturday. Unlike most celebrities — indeed, most people — who try to look businesslike when dealing with legal affairs, Holmes wore a baggy orange sundress, denim jacket, and questionable leather ankle boots (a particularly odd choice, considering the temperature). It appears that they had a very productive meeting, though, because news of their settlement was announced today, dashing any hopes for Holmes's court outfits. Per the reported conditions of their divorce agreement, Holmes apparently has no rights to Cruise's two other children, whom he adopted during his previous marriage to Nicole Kidman; last week, it was reported that Cruise's daughter Bella was no longer employed by Holmes's burgeoning fashion label, Holmes & Yang.
But onwards and upwards: This afternoon, Holmes took Suri back to the Children's Museum of the Arts in Soho wearing flared jeans, a chambray shirt, and a colorful scarf, just like normal. Maybe tonight they'll get ice cream again!