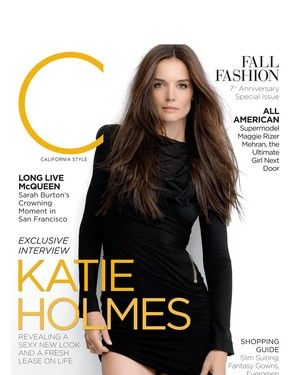 Katie Holmes, shot just one week before the Big Announcement.
Photo: C Magazine
Few people stood to profit more from Katie Holmes's and Tom Cruise's divorce than Elle magazine, which hadn't an inkling about the imminent announcement when it booked Holmes for its August cover — an issue often reserved for lesser stars, as it's a sleepy month for advertisers. Elle had shot the cover and done the corresponding interview months prior, only to find itself with a sleeper newsstand hit on its hands just days before the issue shipped. Now it turns out that C magazine, a relatively little-known publication with the subtitle "California Style," interviewed Holmes for its September cover just one day before the divorce filing.
These two covers seem to bolster the theory that Holmes was carefully orchestrating positive press coverage to coincide with her divorce announcement. The C magazine cover interview was conducted by senior editor Kelsey McKinnon, who of course pored over the transcripts for any hints of what was to come the very next day. She tells WWD:
"Going back over the tapes, there were signs: Holmes was certainly very aware of herself, laying a couple cards on the table but never showing her whole hand," McKinnon wrote. "Most noticeably, the one name decisively absent from her lexicon: Tom Cruise. She never actually refers to him by name over pages and pages of transcription." When McKinnon asked if having Suri brought the couple closer together, Holmes added, "I don't know. I mean … I don't know. People have been having babies a long time."
No matter how innocuous these quotes may be, C magazine's September issue might very well its best seller, ever! Now it'll be interesting to see which magazine gets Holmes for her very first post-divorce interview.