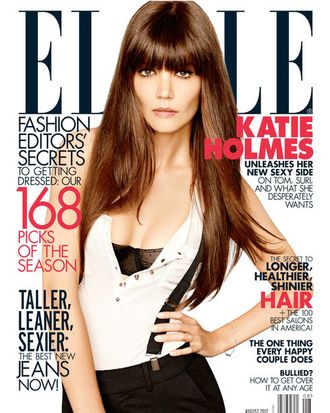 Katie Holmes, wearing Holmes & Yang pants and suspenders on her new Elle cover.
Before her divorce, Katie Holmes lined up a bunch of strategic press for her three-year-old fashion line, Holmes & Yang, which she'll present for the first time at New York Fashion Week this September. She designs the label with her stylist, Jeanne Yang, whom she met through Tom Cruise back in the day (Cruise was also one of Yang's clients, but WWD reported this week that "one expects that relationship now likely to end"). Unsurprisingly, the label has benefited from Holmes's increased visibility: Employees from Barneys's Beverly Hills and New York locations told Fox News that the clothes had been selling "particularly well," while the store's Dallas location — which doesn't carry the line (yet!) — has supposedly been getting a lot of requests for it. Holmes & Yang, whose prices fall in the high-end ready-to-wear category, won't divulge any numbers, but one imagines they must be good.
The label is also the subject of Elle's August cover story, in which deputy editor Maggie Bullock dutifully sings the clothes' praises:
Katie Holmes is wearing a beautiful coat. It's a sort of haute barn jacket, made of the kind of lustrous black suede that you have to stop yourself from reaching out absentmindedly to stroke. When I admire it moments after we meet, she shrugs it off, almost before the compliment is out of my mouth. "Here," she says, easing my arms into the sleeves. "You have to see how it feels." The coat is lightweight but enveloping, velvety outside, and inside, silky as a rabbit's hear, with a charmeuse lining the color of ballet shoes —  still bearing its owners body heat and the weight of her cell phone in its pocket.
The profile goes on to talk about the Holmes & Yang office, which is near Chelsea Market — a surprisingly crowded area for someone so famous to voluntarily subject herself to (one wonders how often she's made it over there lately). In any case, it'll be interesting to see how the presentation goes and how much the label will expand over the next few months.