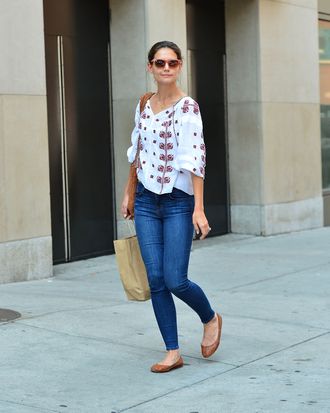 Katie Holmes.
Photo: James Devaney/WireImage
There's been plenty of speculation about how Katie Holmes will reshape (and revive) her career in the wake of her impending divorce from Tom Cruise and the accompanying tabloid frenzy. Acting-wise, it seems most likely that she'll go after some big-ticket movie roles, or maybe shock everyone by putting on a fat suit and playing some washed-up drug addict in an edgy indie film, just to prove to the world that she still has the chops. But so far, the only professional commitments on her agenda have been fashion-related. She made her first post-divorce-filing outing on Monday afternoon to appear as a guest-judge on an episode of Project Runway: All Stars, which tapes at Parsons. Meanwhile, a spokeswoman for her fashion line, Holmes & Yang, which she co-founded with her stylist Jeanne Yang in 2009, told WWD that the label will stage its first-ever fashion presentation at New York Fashion Week this September.* 
Holmes has so far kept her fashion career low profile. Her label typically just has small, private appointments, and when Holmes attends them, she rarely does press. The line has a relatively limited, albeit respectable, retail distribution — it's only sold at Barneys, Harvey Nichols, and a few other luxury stores. Amping up her presence in the high-fashion industry could very well be part of a grander scheme to rebuild her personal brand apart from Cruise. And if she has to deal with photographers living outside her apartment day and night, shouldn't she at least get some clothing sales out of it?
* Earlier reports stated that a fashion show was in the works, but how it appears that Holmes & Yang will stage a presentation instead.