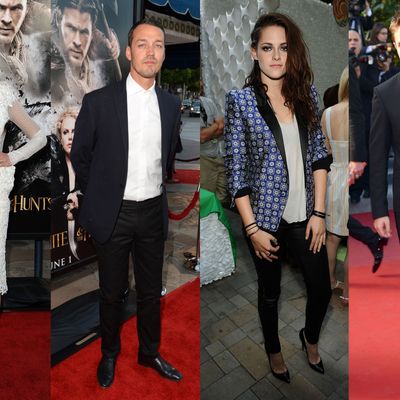 Love square: Liberty Ross, Rupert Sanders, Kristen Stewart, and Robert Pattinson.
Photo: Jason LaVeris/FilmMagic, Lester Cohen/WireImage, Jason LaVeris/FilmMagic, Venturelli/WireImage
When Us Weekly's story about Kristen Stewart having a "fling" with her Snow White and the Huntsman director, Rupert Sanders, broke this morning, we Cut staffers didn't pay a whole lot of attention. After all, there were more important people to consider, like Karl Lagerfeld and Madonna. But then, matters took a turn for the weird, with both Stewart and later Sanders issuing heartrending public statements via People, and our Cut chatroom (yes, we really do have one) became a hotbed of conspiracy theories. Read our full analysis of l'affair KStew, as it unfolded in real time.
12:05 PM: Kristen Stewart Issues Public Apology for Cheating on Robert Pattinson
Charlotte Cowles: YOU GUYS.
Charlotte Cowles: Kristen Stewart apologized to Robert Pattinson via People.com?!
I'm deeply sorry for the hurt and embarrassment I've caused to those close to me and everyone this has affected. This momentary indiscretion has jeopardized the most important thing in my life, the person I love and respect the most, Rob. I love him, I love him, I'm so sorry.
Charlotte Cowles: This is big.
Diana Tsui: SHUT UP
Hilary Moss: Kristen Stewart face!!!!!!!
Diana Tsui: I thought this was all a stunt of some sort.
Diana Tsui: Also, I always thought she was a lesbian.
Ally Betker: There is no way that statement is real, right?
Ally Betker: "I love him, I love him"?
Charlotte Cowles: I wonder if Balenciaga will care.
Charlotte Cowles: It would suck for her if they did.
Sally Holmes: This is no Tiger Woods. No apology necessary, KStew. You are 22.
Maureen O'Connor: She's not married, and the pictures were just her, like, hugging a guy.
Maureen O'Connor: I can't believe she wouldn't just brush it off.
12:15 PM: We Examine Us Weekly's Supposedly Scandalous Pictures
Maureen O'Connor: These are really not incriminating!
Diana Tsui: When does On the Road come out? Like December?
Diana Tsui: Maybe this is supposed to make her seem more sexual? Isn't her character in On the Road supposed to be kind of a reach from her Twihard days?
Maureen O'Connor: Doubtful, because the pics are super awkward and not cute.
Maureen O'Connor: I feel she has been LED ASTRAY by her PR people.
Diana Tsui: I have no idea how they could even let this come out.
Sally Holmes: I feel like she should NOT have to issue an apology since she hasn't even confirmed her relationship, and it's really none of our beeswax what a 22-year-old girl does, BUT you're an idiot for making out with someone in a car since you don't even make out with R-PATZ IN YOUR CAR.
Maureen O'Connor: Maybe Rob isn't answering her phone calls, and public statements in People are her only way of communicating with him.
Charlotte Cowles: Wait!
Charlotte Cowles: What's going on in that second car picture?
Charlotte Cowles: Umm WHERE IS HIS HEAD.
Maureen O'Connor: Maybe he's reaching to pick up a bag of Skittles he dropped.
Sally Holmes: That's exactly what I was going to say.
Maureen O'Connor: Like, it would be very easy to explain this away.
Sally Holmes: Maybe he dropped his pencil.
Maureen O'Connor: That's why I have, in the course of the last 30 seconds, become convinced that this is really about Rob being mad at Kristen.
Maureen O'Connor: Not the public.
Maureen O'Connor: We are but pawns in their love games.
2:00 PM: Rupert Sanders Issues a Public Apology to His Family for Cheating
Charlotte Cowles: AND his name is Rupert. I can't believe she'd go through so much trouble for a Rupert.
Sally Holmes: This is making it so much bigger than it is.
Sally Holmes: Like they had a threesome with the ogre from Snow White or something.
Sally Holmes: IT WAS A ONE TIME KISS
"I am utterly distraught about the pain I have caused my family," Rupert said in a statement Wednesday (via People). "My beautiful wife and heavenly children are all I have in this world. I love them with all my heart. I am praying that we can get through this together."
2:10 PM: Perez Hilton Posts News of Liberty Ross's Alleged Instagram Activity

Yesterday, Liberty Ross [the wife]  tweeted a Marilyn Monroe quote — "sometimes bad things fall apart so better things can fall together" — before deleting her Twitter account. She appeared as a young Kristen's mother in Huntsman.
Charlotte Cowles: Maybe Liberty Ross is trying to say that Kristen was drunk when she made out with him?
Sally Holmes: Maybe Kristen and Rob have a TomKat kind of relationship.
Sally Holmes: A.K.A. a contract.
Charlotte Cowles: Speaking of, where is Rob at this exact moment, I wonder?
Sally Holmes: Chartering an airplane to skywrite CIAO BELLA over L.A.?
Maureen O'Connor: This seems more and more real to me, because it's so weird. It seems like they're famous people in a panic, using the bizarre avenues available to them (public statements, etc.)
Maureen O'Connor: As opposed to normal people sending sad text messages and shit.
Charlotte Cowles: They're acting irrationally, like normal people do in these love-triangle situations, except they're doing so VERY publicly.
Charlotte Cowles: Which makes everything WORSE. Or better, depending on who you are.