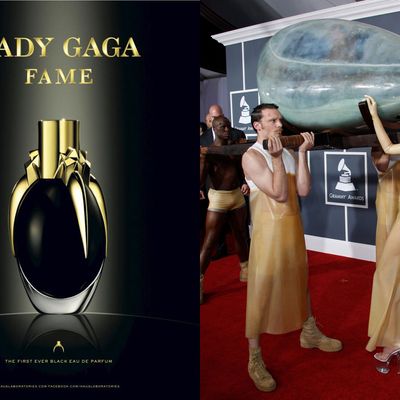 So that's what she was doing in there.
Photo: Lady Gaga Fame, Dan MacMedan/WireImage
WWD took a lengthy look at the performer's forthcoming fragrance, Fame (Gaga's only direct contribution is the quote, "Fame is an illusion — if you really want it, anyone can have it," via e-mail). Steve Mormoris, senior vice-president of global marketing for Coty Beauty, did much of the talking for her, even explaining the idea behind the Nick Knight–created bottle, which was initially compared to Thierry Mugler's Alien packaging.
"Lady Gaga conceived this egg idea back at the Grammy Awards where she came out of an egg, so it's symbolic," said Mormoris, adding that the gold-toned cap with extended metal pieces is intended to resemble the points of a claw. "The [bottle] design is simple and elegant and has a prestige feel and look, but it has symbols that are disruptive and [so] her. It's not of the moment and trying to shock you, but a very eternal, timeless classic fragrance message because Gaga saw this as part of her artistic legacy."
A 100-milliliter bottle of her "artistic legacy," dubbed the "Ultimate Masterpiece," can be yours for $79, the 50-milliliter size of Fame costs $55, the 30-milliliter rings up for $42, and a 10-milliliter roller-ball version is only $19. The Fame package is also set to include Black Soap, shower gel, and body lotion, to hit stores this fall. And according to WWD, Gaga plans to hold a party at the Guggenheim Museum on September 13 to fête her latest venture. Renato Semerari, president of Coty Beauty, promised, "There will be theater … she's not the kind of person who just shows up and says hello." No, no she's not. She's the kind of person who pops out of an enormous Fame bottle, covered in the black liquid, wearing a $133,075 McQueen dress that she just bought at auction.