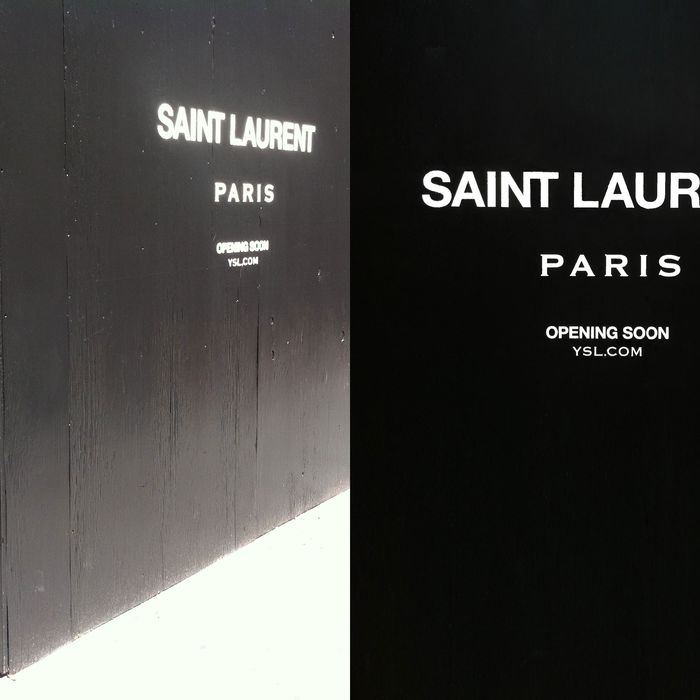 Saint Laurent's new logo, revealed on the soon-to-be-opened Soho storefront.
Photo: Kailey Kramer
While some Facebook commenters were less than thrilled about Yves Saint Laurent's new logo (and for all we know, the dissenters could technically be one disgruntled person with multiple accounts — it's the Internet, so anything's possible!), both Karl Lagerfeld and model Arizona Muse are strongly in favor. Lagerfeld tells British Elle:
All of them, Dior and Hedi at Saint Laurent, are friends of mine, so I think it's a very good thing… Paris needs some new things, some stimulation… It's good for everybody. Competition is a healthy thing in life, especially in this business. I love the idea. I think it's interesting and it's important. Something fresh was needed.
Meanwhile, Muse tells British Vogue that she thinks the name change is a great idea — and by the way, she wouldn't mind shooting another campaign with the label, too:
I think it was a good idea to change it … People who aren't in the fashion world might not know that a new designer has joined the brand, so this is a clear way of signifying that there's been a big change. It's the sort of thing everyone will notice, not just fashion people. YSL was the first campaign I ever did, I'd love to do another one — it'd make me so proud.
She makes a good point: Plenty of luxury customers don't follow the ins and outs of designers' careers, so a visible signal that the label has come under new leadership could be a smart move. And while it seems unlikely that either person would say anything bad about Slimane regardless, it's still a safe bet that he and the higher-ups at PPR know what they're doing.