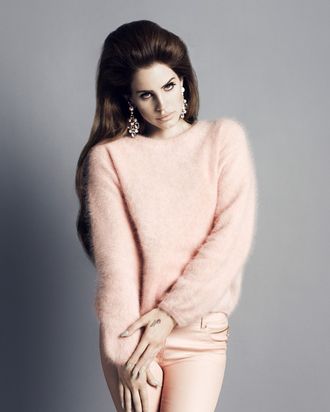 Lana Del Rey, shot by Inez & Vinoodh for H&M.
Photo: H&M
H&M announced today that Lana Del Rey is indeed the face of their fall campaign, confirming previous rumors that began circulating back in June. WWD published two of the ads, which show the singer in a pink angora sweater and peach-colored pants that make her appear naked from the waist down if you're not looking closely enough. H&M's creative director, Donald Schneider, tells WWD that the ads are meant to look "L.A. noir," which explains the teased hair.
Shot by Inez van Lamsweerde and Vinoodh Matadin, Del Rey will appear in another round of ads come winter. She's also starring in a video commercial, out September 19, that'll involve her singing the fifties hit song "Blue Velvet." Anyway, this is Del Rey's very first major ad campaign, an obvious next step from her many spreads in fashion magazines and popularity at fashion shows. Chances are she's angling for a luxury brand contract next — or perhaps she'll just launch a fragrance line.