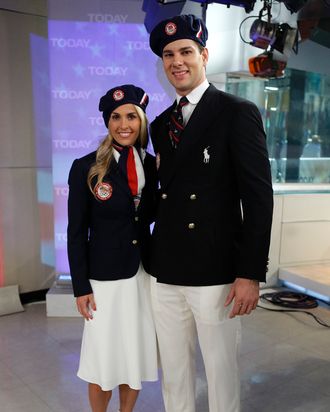 Ralph Lauren's U.S. Olympic team uniforms.
Photo: Peter Kramer/NBC/NBC NewsWire
After ABC News revealed last week that Ralph Lauren manufactured all the 2012 U.S. Olympic team uniforms in China, the label experienced a major backlash: Even Senator Harry Reid, in what's certainly his most outspoken clothing-related opinion to date, suggested that people "put them in a big pile and burn them." (And then presumably sit around the fire drinking Budweiser, roasting s'mores, and gleefully watching the berets crackle.) Anyway, while it's awkward to represent the U.S. with outfits sewn by hundreds of Chinese fingers, it's been happening for years: The Times pointed out on Friday night that Ralph Lauren moved most of its manufacturing to China more than a decade ago and has been the official outfitter of the U.S. Olympic team since 2008.
But now that everyone's up in arms about this — and it's far too late to do anything about the latest uniforms, which are already finished — Ralph Lauren has pledged to manufacture the uniforms for the next Olympics (the 2014 winter games) in the U.S. The company released the following statement on Friday night, according to the Times:
For more than 45 years, Ralph Lauren has built a brand that embodies the best of American quality and design rooted in the rich heritage of our country. We are honored to continue our longstanding relationship with the United States Olympic Committee in the 2014 Olympic Games by serving as an official outfitter of the U.S. Olympic and Paralympic teams. Ralph Lauren promises to lead the conversation within our industry and our government to address the issue to increase manufacturing in the United States. We have committed to producing the opening and closing ceremony Team USA uniforms in the United States that will be worn for the 2014 Olympic Games.
So, let's all just put this behind us now, shall we? Nothing — not even China — can mar the sight of Ryan Lochte parading about in white khakis.