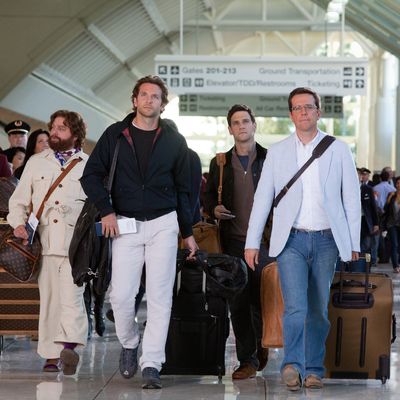 Photo: Melinda Sue Gordon/Warner Bros. Entertainment Inc. and Legendary Pictures
Like any truly bad hangover, the legal skirmish between Louis Vuitton and Warner Bros. over counterfeit Louis Vuitton luggage featured in The Hangover Part 2 refuses to end, even after all the proper steps (Advil and Gatorade, or in this instance a judge's dismissal) have been taken. LVMH filed the initial trademark suit against the film company back in December 2011 (to continue the hangover metaphor, this part would be the equivalent of going sake bombing — by definition, the activity guarantees a long, tough recovery); in March, Warner Bros. filed a motion to dismiss the lawsuit (like chugging water before passing out at the end of the night — an unpleasant but necessary exercise), which was granted in June (like waking up bright and early the next morning with no headache!).
But Warner Bros. isn't out of the woods yet. Yesterday, LVMH appealed Judge Andrew Carter's dismissal, WWD reports. This turn of events begs a comparison to the late-breaking afternoon headache, which is often accompanied by sweats, nausea, and the uncontrollable urge to lie comatose on one's couch watching Netflix and eating chips for the rest of the day. The date for the appeal hearing hasn't been set yet.