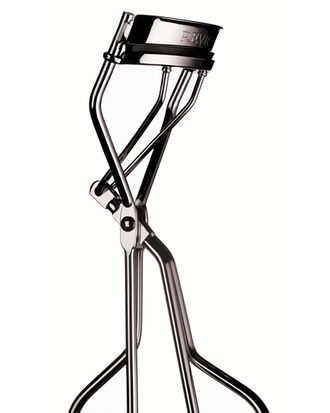 If you're good to your lash curler, it will be good to you.
Photo: Courtesy of Revlon
Q: Can eyelash curlers lose their effectiveness? I feel like mine just isn't working anymore. — Stella, New York, NY
A: You know that scene in Beverly Hills 90210 when a teenage David Silver whips out Kelly Taylor's eyelash curler and adds it to the time capsule he and Steve Sanders are making, mainly because he just didn't know what it was? And you know how puppies sort of cock their head to the side when they see something they don't understand? Well, that's the look 12-year-old me made at the TV when I first watched that scene. Brian Austin Green, I didn't know what the hell that thing was either. Not sure if he ever figured it out, but that next year, when my social calendar really started to pick up (Bat Mitzvah season had arrived), I would learn about the magical effects of the eyelash curler.
I became addicted to one made by Revlon that I picked up at the local Giant (that was the supermarket in my 'hood in Baltimore). No one really wore makeup to school (I went to an all-girls school, and you were more likely to be ridiculed for wearing makeup than not), but I curled my lashes obsessively. I honestly even felt like I could see better. Then one day, my curler stopped working. I kept squeezing and squeezing, but nothing was curling — it was more just making dents. I sat on the bathroom sink counter, shaking my 13-year old fist at the ceiling because I remembered casually tossing out those extra rubber pieces when I first opened my Revlon package. Turns out, you need those squishy pads — they're what really defines the shape of the curl. Everyone says you're supposed to replace them every three months, but I've definitely gone longer. Basically, once you start denting your lashes, then it's probably a good idea to make the change. Which should be really easy if you didn't throw any extras away, like someone I know.