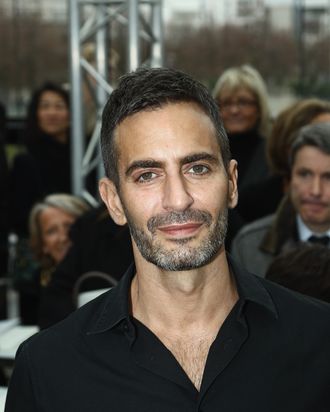 Pensive Marc.
Photo: Julien Hekimian/Getty Images
The designer, along with Louis Vuitton's train, arrived in Shanghai earlier this week to show his fall 2012 collection and fête the reopening of the brand's store in the city's Plaza 66 shopping mall. Of the experience (which also included dinner with Vogue China editor-in-chief Angelica Cheung and a trip to an antiques market), Jacobs told WWD:
I hate to talk about places as if they are new markets or something like that. I mean, it's not the way I think. But to be in a particular place that I've never been before and, you know, to hear about how enthusiastic people are about fashion here … to bring [the train show] to somewhere to show people outside Paris. I think that is a nice thing if you afford to do it. This is going to be my big Shanghai moment.
Jacobs also had a semi-big Chinese moment several weeks ago, when Internet users protested the designer's Free Tibet line, which he called "short-lived" and said wasn't being produced anymore. He likened the situation to that one time he put together anti–George W. Bush windows for his own stores a few years back (apparently, a few folks at LVMH weren't too pleased).
"I guess politics and fashion, you've always got to be a bit careful because somebody's going to get offended or somebody's going to feel it isn't right," he offered. "I don't want to sound stupid or ignorant or anything, but I spend my time in the studio choosing fabric and colors and trying to figure out what we're going to make … If you want to avoid controversy, you just don't do [political] things like that."
And that's today's life lesson from Marc Jacobs.