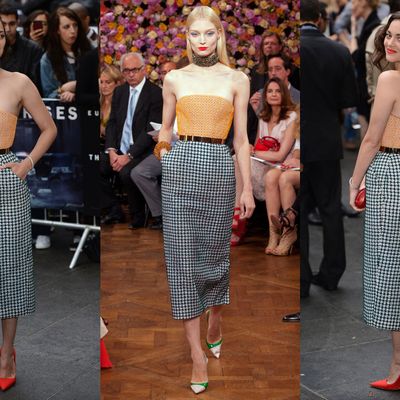 Marion Cotillard, wearing Dior couture just 2 weeks after the show.
Photo: Ian Gavan/Getty Images, Imaxtree, Ian Gavan/Getty Images
Dior face Marion Cotillard got the honor of being the very first woman to appear in couture dress from Raf Simons's much-fussed-over debut collection, which walked barely two weeks ago. She wore it to the European premiere of The Dark Knight Rises in London last night, thus ensuring that all the international press took a bazillion pictures of her.
Simons addressed the relationship between couture dresses and red carpet photographs at his June 3 show, telling Style.com:
I think lots of people see it as a still, an image from the red carpet. I want to make it more dynamic, appeal to a person who has a different energy.
That being said, we'll probably never know much about Cotillard's "energy" and dynamism last night. So what do you think of the "still" version of this dress?