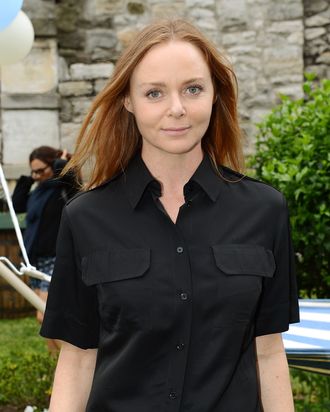 Stella McCartney.
Photo: Andrew H. Walker/Getty Images
For her latest "Lunch With the FT" column, Valerie Friedman talked to Stella McCartney over a spinach omelet (the designer's order) and cottage cheese with iceberg lettuce (the interviewer's); even McCartney pointed out that Friedman's dish did not seem very appetizing, so we don't feel bad agreeing. Anyway, they discussed McCartney's Olympics uniforms, which seem like an overwrought subject at this point except for one concern:
Because McCartney has had a long-standing relationship with Adidas, designing its activewear, she was asked to do the entire Olympic kit – excluding the opening and closing ceremony outfits, which will be designed by high street brand Next. ("I'm terrified people will think it's me," she says, looking sort of embarrassed, not because of the anticipated confusion but because she is exhibiting the sort of designer elitism she tries hard to avoid.)
On the flip side, Next might be hoping its outfits aren't confused with McCartney's, so there! Of course, the designer quickly recovered from her brush with snobbery with a story about staving off stress with liquor at the Met Ball last year.
[Co-host] Colin Firth and I were standing at the top of the stairs, and every once in a while we'd go sneak some vodka shots behind the curtain. When it was over, I went home and ate everything under the sun."
Obviously, this story would've been that much better if Anna Wintour had joined her for a few nips too, but not everyone can be human.