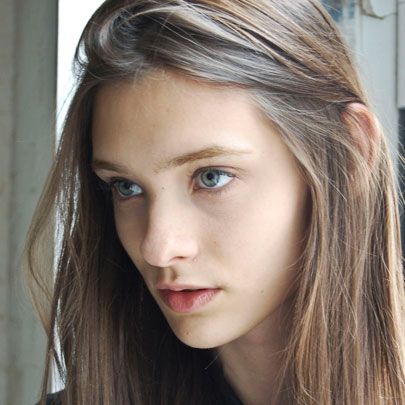 Photo: Courtesy of Ford Models
Most Brazilians instantly recognize Carolina Thaler. A staple at Fashion Rio and São Paulo Fashion Week, the 20-year-old Lages native has also posed for each of the country's big-name magazines, beginning with Vogue Brazil in May 2009, then Marie Claire Brazil and Harper's Bazaar Brazil — and she fronts the July issue of Brazilian Elle, along with Nathalia Oliveira and Nadine Ponce. The fall 2012 shows marked Carolina's breakout season, where she walked on a total of 33 runways in New York, Milan, and Paris, including opening for Just Cavalli and Wayne, and closing for Nicole Miller, Y-3, and See by Chloé. And the Ford model just returned from Haute Couture, where she booked slots at Giambattista Valli, Stéphane Rolland, Alexis Mabille, Zuhair Murad, and more. Despite all that, she says nothing topped walking for Dior last year. "It was beautiful in the Dior maison," she recalls. "Walking for the music, and stopping, and pausing — it was a very Dior feeling … And Bill Gaytten is a sweet guy. I like him a lot." See what else Carolina had to say about leaving home at 17, bleaching her eyebrows, and being fitted for Prada at 2 a.m.
Tell me a bit about your childhood.
I was born in Lages, in the south of Brazil, and spent two years there. Then we moved to Germany because my father was studying for a doctorate, and it takes four years. And then we came back to Brazil, and I lost my mother to breast cancer. But it was really good to grow up in Brazil — Lages is small. I had a really good education, and I was really happy, with a lot of friends … I go back twice a year, and I [see my] two best friends. They know everything about me, but I don't really like to talk with them about modeling, because I go home to be normal and have a normal life. We don't talk about fashion, and they agree with that, you know? I just say things if they ask.

How were you discovered?
By myself. Because I always wanted [to be a model], and I've always been skinny. People were telling me, "You should be a model, you look like a model," and then I began to create it in my mind that I wanted to model … There is a competition for Ford called Supermodel Brasil. I sent pictures, then they called me, and I had to say yes. This was in 2009. I was 17. The first year, my father didn't want me to be a model, so it was school half of the time, then on the weekends, modeling. I had to fly over Brazil for work. And then after, I finished my school in São Paulo. It was half and half.
What was it like when you moved to São Paulo?
It was really hard. My first week, I was cried every day … Suddenly I was in a model apartment with girls that I never saw before. I had castings, I didn't know what to do, I didn't know how to dress, and I wanted to go home. I wanted to give up in the first week. I cried, "I want to go home, I don't want to come back," and my father was like, "That's what you want? You [don't] want to stay?" And I was like, "No." "You want to go back?" "No." "So, what do you want?" I didn't know. I wanted to be home for a day. But my father said, "Okay, it's up to you. Do what you want, but I'm here. I'm here to help you."
Your first magazine job was for Brazilian Vogue.
Yes, it was — it was [in] my book for a long time. You wouldn't ever guess it was the type of job for your first job. The photographer was Gui Paganini. I like him a lot, he's a nice photographer, and they were all really nice with me because I was just 17. I didn't know how to shoot. We started really early and finished at 11 or midnight. But Gui had nice directions for me, like jumping and screaming in the pictures.
At this point, you've walked in tons of shows. Does opening or closing make you nervous?
Opening is more intense, because you're the first one stepping on the catwalk. Everyone is waiting to see you. But it doesn't really matter because every girl inside is pretty important. Some will be like, Oh, I'm opening the show, but you're really doing the same stuff. When I opened in Milan for Just Cavalli, it was a really good feeling. There's no light, and no music, then suddenly, boom, you come [on the runway].
Are there any designers in particular who you like working with?
I like Prada. I love Prada. We did a fitting, and it was at 2 a.m. because you have to wait a long time to do fittings. There are many girls, and everyone has her time. I got there at 10 p.m., and it was one day before the show. I wore a long coat and trousers. It was beautiful. But the [seamstresses] are really working hard and they really concentrate, so they don't talk to you.

Is there ever any hair and makeup that makes you hesitant?
The [bejeweled] Chanel eyebrows [from fall 2012] — they were really hard to take off after. I mean, it wasn't that hard, but I think two days later, I still had some glue on my face. But at Prada [fall 2012], it took four hours to do the whole thing, like two hours in hair and two hours in makeup. The hair, they had really, really straight and it had to be perfect and you couldn't really move, and the makeup was really intense. Even the eyebrows — they were bleached, and after, colored orange.

Did they dye them back after?
No, they didn't. We had to bleach so many times in Milan, and if you bleach and you [dye them] back, then after a while, we'll lose our eyebrows. So we just keep [them bleached]. If they want a real color in a show, they'll do it with makeup. So we went around Milan with bleached eyebrows, but I kind of like the style — they make my face stronger [around my cheekbones]. And my favorite beauty look was from Gucci. I think it looked really nice.

Do you find that there's a big difference between the Brazilian Fashion Weeks and New York Fashion Week?
They're totally different. Fashion Rio and São Paulo Fashion Week are getting bigger — I think the designers are getting bigger, like Alexandre Herchcovitch is even working in New York — but you can see the difference. The clothes are from Brazil, and it's Brazilian style. There are a lot of colors and short dresses. It's happy clothes … But I know everyone in Brazil, everyone — from makeup [artists] to stylists — everyone. So I like to be there, speaking Portuguese … In New York, I'm new, but I like it as well.

Who do you enjoy working with most in Brazil?
Well, my favorite designer is Reinaldo Lourenço — the father of Pedro Lourenço. I opened his show for two seasons already. He's really sweet with me, and he likes me, so it's always good to do his show.
Let's get personal: What is your guilty pleasure?
Shoes. I just bought these [Editor's note: similar to this style, but with lucite heels] in Paris. When I saw these on, I was so happy. They're Balenciaga. But I have so many shoes at home — so many high heels. I don't know how many pairs, but most I don't use anymore. I just like to keep them.

Do you ever Google yourself?
A lot of times, because I like to see pictures, like what is new and backstage things. I usually go to the Fashion Spot, where they're always posting new pictures of me. I check it out. I read what people say about me: "Oh, she looks so cute in this picture," "She looks so good," "She's getting better," "I like this magazine," or "I like this ad." It's good to see what the people think about you … When I was younger, they were really mean about me because I was 17, and I didn't know really how to model. And they were like, Oh, she's not good enough, or Oh, I don't like how she walks, I don't like her, blah, blah, blah. When you're young, it's hard. Now I don't care if people say something. They don't say anything mean anymore.
What do you think is the best advice you've been given during your career so far?
Never give up. You can get one "no" in your face, another "no," another "no." That doesn't mean you're not good. Everyone has [his or her] own time … Even if I finished modeling now, I would say I've had a nice experience, got to travel a lot, and I grew up so much. I was such a baby, but I had no choice. Otherwise, I wouldn't work.
Model Profile: Carolina Thaler
Explore other rising stars (plus all the big names) in our extensive Model Manual, featuring runway pics, glamorous editorials, model bios, career timelines, and more.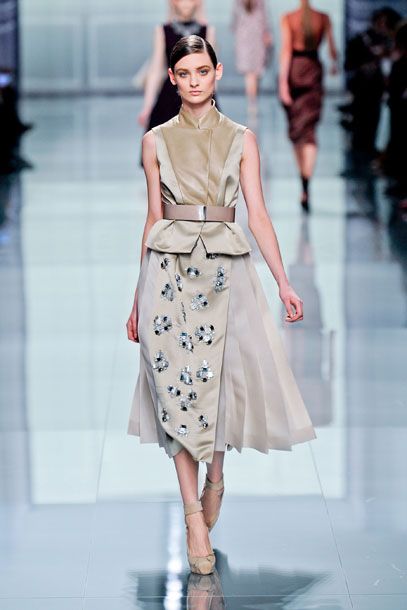 Walking the fall 2012 Christian Dior show in Paris.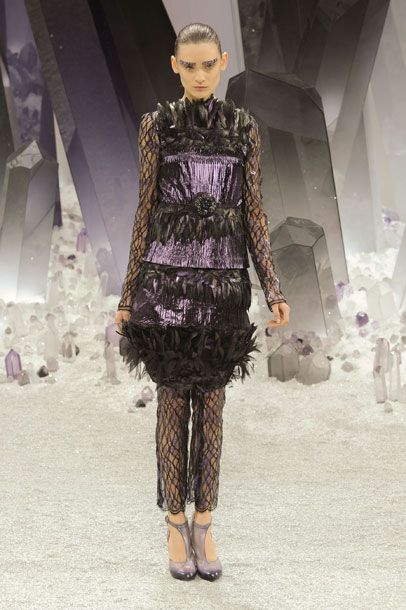 Walking the fall 2012 Chanel show in Paris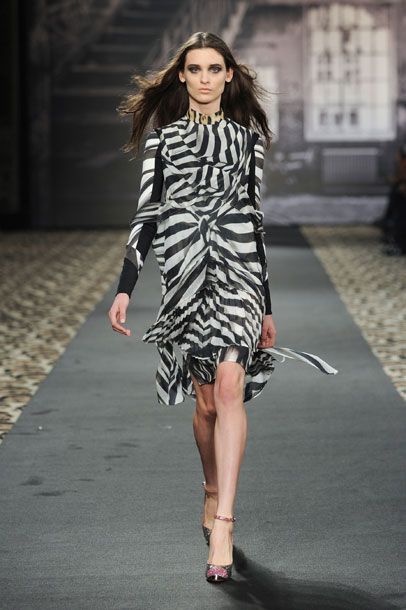 Opening the fall 2012 Just Cavalli show in Milan.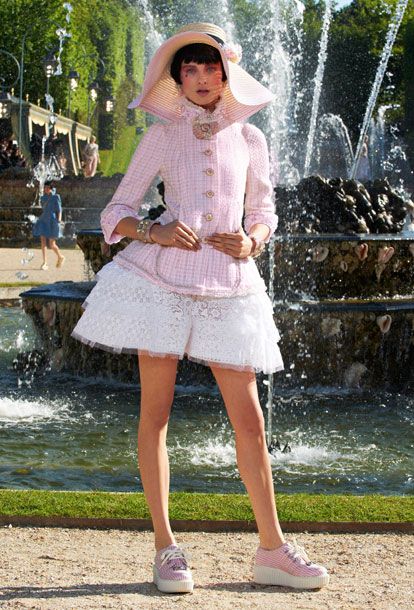 Walking the resort 2013 Chanel show in France.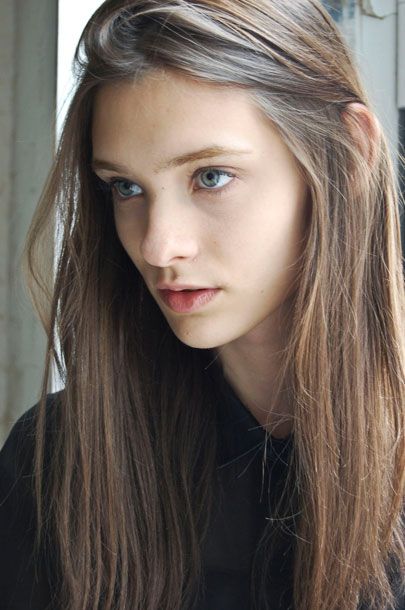 Polaroid.