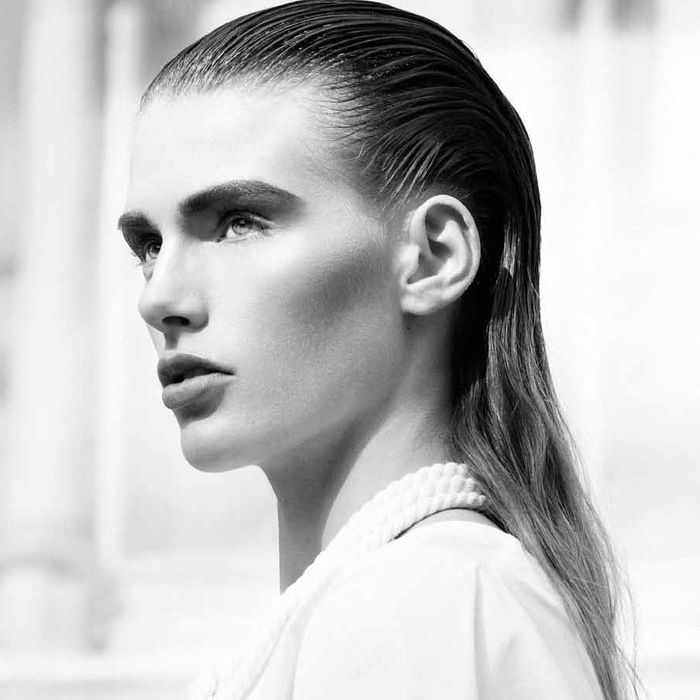 Photo: Courtesy of Vision Models
When Madison Headrick arrived in New York this past February after signing with Marilyn, the plan was to, in her words, "do a boot camp — learn what castings are, take some walking classes, [take] me shopping, [study] models and designers and photographers … just learn the basics." We all know what happens to best-laid plans, and in the 18-year-old's case, instead of getting a crash course in modeling, she ended up on a plane to Milan, where she walked as an exclusive in the Prada fall 2012 show. Judging by the string of jobs that she's booked since then — editorials in Numéro, Interview, and British Vogue, look books for Altuzarra and Donna Karan, not to mention the Prada fall ad campaign — she's a fast learner. Upon returning from a work trip to Paris and Berlin, the striking Southern belle stopped by our offices to talk about navigating Parisian patisseries while on a diet, having Lindsey Wixson as a tour guide, and explaining to her friends back home that wearing combat boots does not mean she's depressed.
Tell us a little about your childhood.
I was born in Charlotte, North Carolina, and I moved around a lot for my dad's job — I've lived in Georgia, North Carolina, and South Carolina. My family is very Southern, very down-to-earth. I was really into sports as a kid, I played everything under the moon: soccer, basketball … but my favorite was probably competitive cheerleading.
How did you get discovered?
I was scouted by Tony Perkins — he approached me, we talked about it, and I ended up signing with Vision in L.A. when I was 16. But I didn't really work because I was still in high school. My dad sat me down one day and said, "If you're serious about modeling, you have to prove it to me. You can graduate early if you finish your courses in double time, and we'll be totally supportive. But you've got to finish school first." So I promised my dad that I would finish school and go to college. I studied really hard and graduated a semester early, the last week of January. Then I came to New York and signed with Marilyn. It was so weird — literally, I was sitting in a desk at school, and four days later I was in New York shooting.
What was it like having Prada be your first runway show?
A lot of girls said, "Whatever you do, don't get your hopes up because nothing is for sure. You aren't confirmed until your foot hits the stage." So I was nervous. We were standing in line and one of my friends, Iris [van Berne], was standing behind me and she put her hand on my shoulder to tell me good luck but I thought it was someone telling me, "Sorry …" I turned around and freaked out, screaming, "Nooo!"
Not only did you walk the show, but you landed the Meisel-photographed ad campaign.
I didn't know what to expect — I heard some stories about him — but it's my favorite shoot by far. When my dad told me that I had to prove to him that this was what I wanted to do, he said, "I want you to study this career as another subject of school." And I studied! In my bedroom I had a wall for photographers, a wall for designers, and a wall for models. And Steven Meisel was always the top. I thought, if I can get that, I can just pat myself on the shoulder.  
Who else was on your wall?
It's kind of weird because I've worked with her, but my all-time favorite model since I was 16 is Constance Jablonski. For designers, definitely Prada, definitely Calvin Klein — that's always been my favorite, just because they're very American and I just see myself more as a Calvin girl. When I was at Prada I felt like I didn't fit in. I looked nothing like those girls — they're all European — so I wondered, why me? I've heard a lot of people saying, "You don't look like a Prada girl."
Does your background influence the way you approach modeling?
I definitely approach it differently than most girls. School is really important to me, [so is] staying close to my family. I think the reason I've done what I've done is because I have a really strong support system at home. I have annual father-daughter business meetings. [My dad] always said you have to be a businesswoman first, model second. You have to know your stuff. I still applied to colleges — I have my acceptance letters, so I have a plan B. I have this right now, and if anything happens I can always fall back. I promised him I'm going to college no matter what — even if I'm 40!
You recently tweeted a photo of you and Lindsey Wixson on a Ferris wheel in Paris. Do the American girls stick together?
It was our first time hanging out! It was my first time traveling outside of the country alone and the first couple of days I was super lonely. My booker said, "Lindsey's in Paris, y'all should meet up." So we did. There was a pop-up carnival so we rode the Ferris wheel, went to a haunted house, just cheesy stuff. She took me to a restaurant and it was really, really cool. It was my first real French food! It's just weird how our paths crossed; she signed with Vision the same week I did, then we both signed with Marilyn, we've both done Prada, so it's interesting how our careers are kind of similar in the beginning.
Besides solo travel, any other big changes since you started modeling full-time?
The one thing I had to get used to is dressing myself. [Laughs] My agency was like, "Your flare jeans and your rainbows aren't that cool." I never really cared about what I looked like, and everyone just wears jeans and a T-shirt and flip-flops [in Charleston]. So when I came to New York, I really didn't know my style. But they helped me, they took me shopping. It's funny because I really like my combat boots and when I went home [my friends] wondered, "Is she depressed? Is she emo? Is she weird? She changed." So now I have my Charleston clothes and I have my New York clothes.
Let's talk more favorites. What about …

Music?
If I'm at a shoot, I love Rihanna. But I also like The Fray, John Mayer, and Red Hot Chili Peppers.
Movies?
Probably Bridesmaids right now. I love stupid humor movies — I just saw Ted and loved it, I love The Hangover.
Books?
I like anything by Jodi Picoult. I'm reading Nineteen Minutes right now.
Food?
It's so hard being on a diet and having favorite foods! I'm on this new diet called New Lifestyle Diet. It's cool because you eat every two hours; it teaches you to have small little portions instead of eating big meals. I'm a fruit freak — I could literally sit down and eat an entire watermelon. I'm a sucker for pastries, I like croissants, muffins, and bagels. Paris was pure torture, eating the diet shakes and salads [when] there are pastries everywhere!
Model Profile: Madison Headrick
Explore other rising stars (plus all the big names) in our extensive Model Manual, featuring runway pics, glamorous editorials, model bios, career timelines, and more.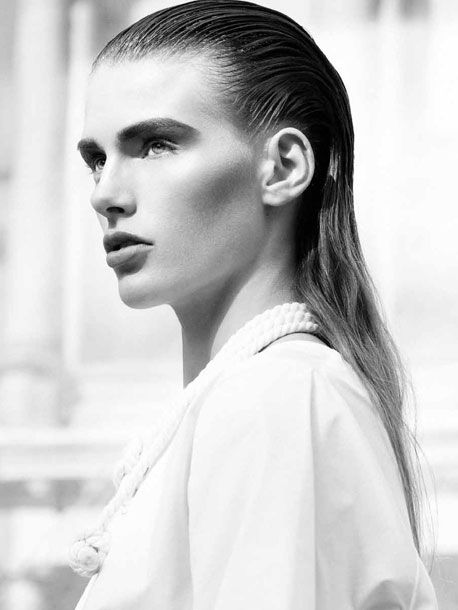 Head shot.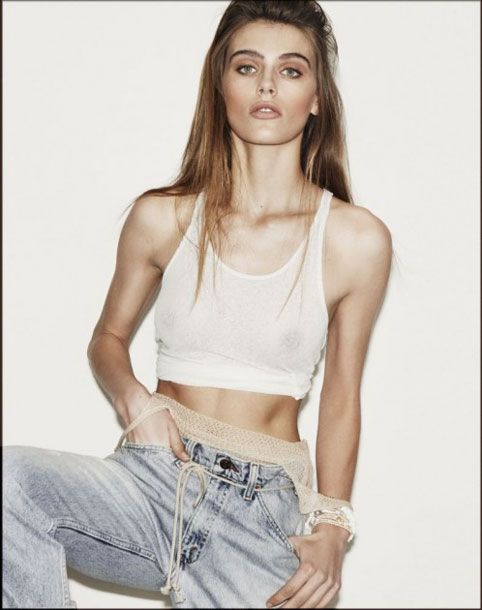 Test shot.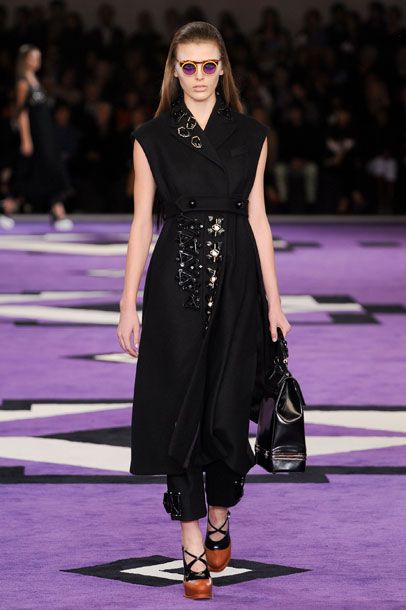 Walking the fall 2012 Prada show in Milan as an exclusive.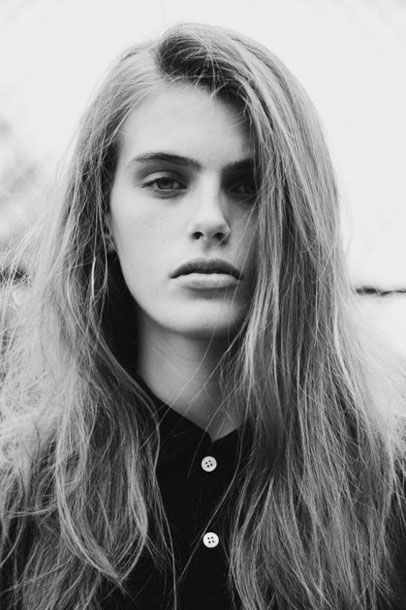 Head shot.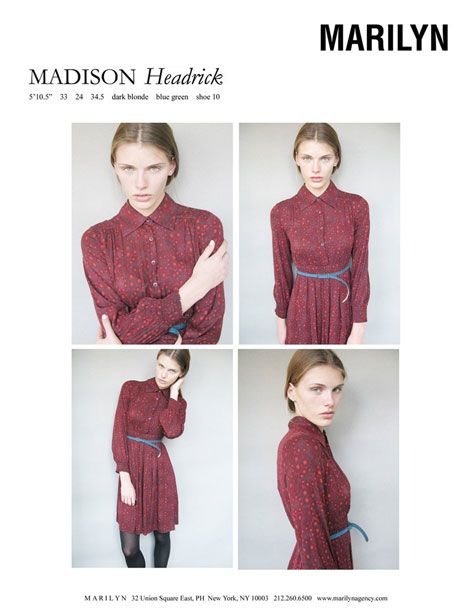 Comp card