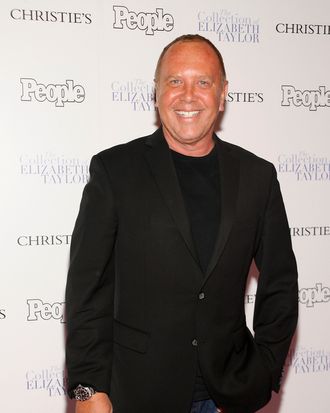 Michael Kors.
Photo: Sylvain Gaboury/?Patrick McMullan
It's been almost a year since Michael Kors married his longtime partner Lance LaPere in the Hamptons, which means he's ready to start reminiscing about what a great day it was. He tells Harper's Bazaar for the magazine's August "The List" feature:
Our wedding day last year was our dream day. We stayed with friends in Southampton. We both had massages, we had caviar for lunch — gobs of it. We went to the beach and got married barefoot. Then we went to see The Help in East Hampton and afterward we went out for pizza at Sam's. Give me beach, give me a movie I can cry at with someone I love, and within that day have my favorite junk food and my favorite indulgent food.
That certainly beats an outrageously expensive, hectic day of shoehorning yourself into a white dress and posing for a zillion pictures with more makeup on than you'll ever wear again, doesn't it? Speaking of mundane things, Kors also details his daily iced tea intake, which is his preferred mode of caffeination:
I don't drink hot liquids at all, but I'm iced tea obsessed. So every day, no matter what the weather, it's a large iced tea with three Splendas. Those three Splendas make all the difference. And lemon … The minute I walk in the office, my assistant will show me e-mails we have gotten, what phone calls have come through and slap another iced tea into my hand so I can feel like an Olsen. The iced tea is always there. I think when I quit smoking, the cup in my hand became my new cigarette, so to speak.
Feeling like an Olsen: always the goal, isn't it?