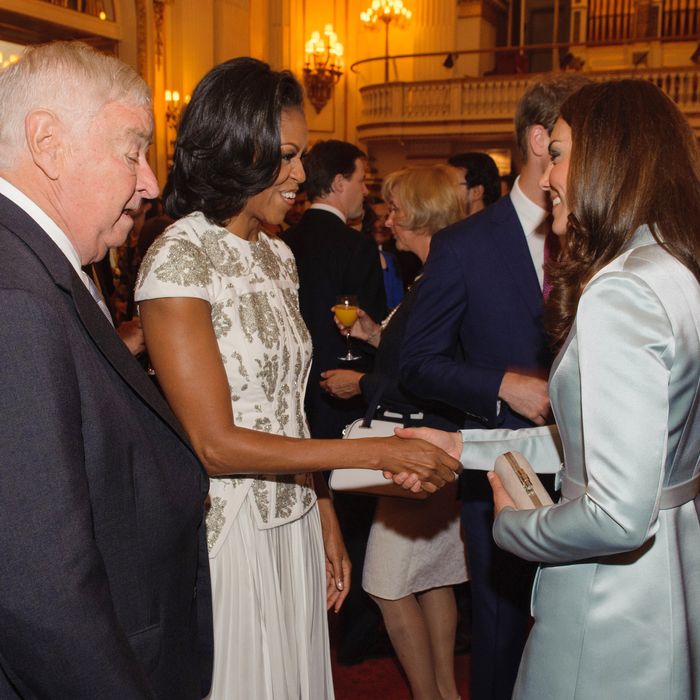 "I'm dying for some champagne, too."
Photo: Dominic Lipinski/WPA Pool/Getty Images
Our two beloved look book subjects, Michelle Obama and Kate Middleton, met for the second time today in London! You may recall that their first rendezvous took place a little bit more than a year ago at Buckingham Palace in London, right after Kate and Will returned from their honeymoon in the Seychelles. This time, MObama's in town for the Olympic Games and to promote the Let's Move London initiative (with David Beckham!). So far, this is the only picture we can find of them together, and it's almost ruined — or improved, depending on your opinion — by U.S. Ambassador Louis Susman, who actually dared to close his eyes during the momentous few seconds that Kate and Michelle were touching each other.
Anyway, Michelle Obama is wearing an outfit from J. Mendel's resort 2013 collection, and Kate Middleton is wearing Christopher Kane. They're surely talking about one of the following rich topics: a) Ryan Lochte, b) what it's like to embrace David Beckham with gusto, c) the pressures of doing sporty things in front of the public, d) Will's pesky loafers, and/or e) Kate's feet.
See more photos of Michelle Obama in our ever-expanding Michelle Obama Look Book.
See more photos of Kate Middleton in our ever-expanding Kate Middleton Look Book.