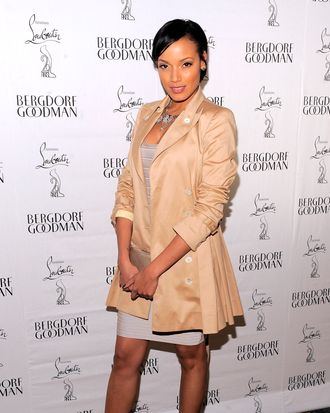 Soon-to-be-defendant Selita Ebanks.
Photo: Jemal Countess/2012 Getty Images
Liza Irizarry, whose Twitter profile describes her as a "casting director/singer/actress/published model" who has "graced the pages of Smooth, Show, Jet, Urban Ink Magazine, Dimepiece, The Source & many more," told the Daily News that she's planning to file a civil suit against model/swimsuit designer Selita Ebanks for allegedly breaking her nose in a club last year. According to Irizarry, the scuffle started when she gave Ebanks's boyfriend, BET host Terrence J, a kiss on the cheek in greeting when she ran into the couple at the Miami club Dream in the wee hours of the morning last November. 
Irizarry recounted the altercation to the Daily News at her lawyer's office yesterday:
"When [Ebanks] saw me, she said, 'Don't be kissing my man,' … I said to myself, 'So what, that's my friend.' That's when she hit me on the nose. I went to swing back — that's when all her friends jumped in. I felt hair pulling and fists coming at me."

A male friend who witnessed the fracas broke up the fight. Irizarry was bleeding; she went to the bathroom and cleaned herself up. The next day, she awoke to a busted nose.

She then came back to New York, and went to the doctor, who told her she had a complex nasal fracture and nasal obstruction that required surgery days later.
Irizarry's attorney, Edward Steinberg, says that she'll file for assault and battery in Hudson County Superior Court and plans to seek an as-yet undisclosed amount of money for medical bills and pain. Although she filed a police report in Miami after the incident and has medical records to back up her claims, the authorities never charged or arrested Ebanks, so the case could be tough to prove. Meanwhile, Ebanks's lawyer, Paul Rothenberg, says that the suit is "completely without merit." Ebanks has not released any comments on the matter, and she hasn't tweeted anything since Sunday; Irizarry, on the other hand, has been tweeting up a storm (interestingly, both models retweeted the very same Rihanna tweet last week, so there's common ground somewhere).