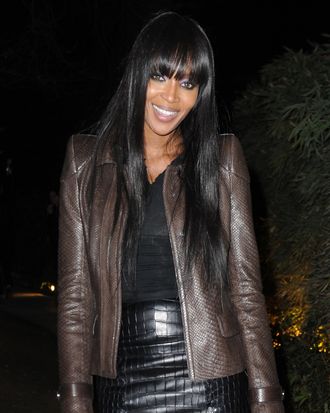 Mentor Naomi.
Photo: Jacopo Raule/Getty Images
Later this month, the upcoming Oxygen series, which will show models competing to become the spokeswoman for a national brand, plans to hold two open calls (one in New York and one in L.A.) to cast its first season. In a press release, Mentor Naomi says:
I'm looking for contestants who have the whole package — a beautiful face; healthy, toned body; unique look; interesting personality; confidence; and, above all, strong work ethic and drive. … Most importantly, I'm looking for a model with a fearless spirit who can completely transform like a chameleon, and take you on a unique journey that makes you believe that even the impossible is possible.
Before the "fearless spirits" turn up, they're strongly encouraged to complete a participant application. And questions include, "Do you take direction well? (YES/NO) If you answered NO, please explain," and, "How will you respond to judges/mentors giving you constructive criticism and advice?" There's also, "If you had Aladdin's lamp and 3 wishes, what would you wish for? (Rule: you can't wish for money or more wishes)." Darn it — of course we'd wish for more wishes.