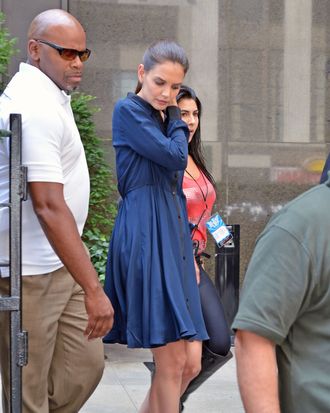 Katie Holmes.
Photo: Splash News
Despite filing for divorce last Friday, Katie Holmes showed up to her previously scheduled appearance on Project Runway: All Stars at Parsons in New York yesterday. She wore a navy shirtdress with black accents and strappy heels for the taping. Afterward, Isaac Mizrahi said, "She did great."
How did Katie look for her first post-divorce-announcement outing? Do you hope singledom will change her style? Or do you think this outfit hits the right notes?
In other news, we're taking off a bit early to milk our one-day holiday for all its worth. Happy 4th, everybody!