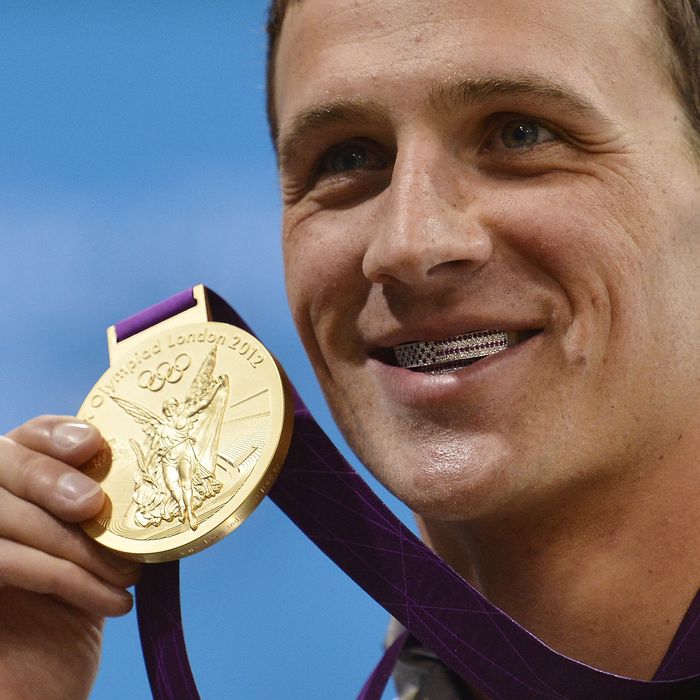 Swoon.
Photo: FABRICE COFFRINI/AFP/Getty Images
Not to gloat or anything, but how right were we about Ryan Lochte being the most exciting competitor to watch at the London Olympics? Not only did he win the U.S.'s very first gold medal on Saturday, but then he wore a fabulous American-flag-inspired diamond grill when he got his gold medal on Saturday night, even though Olympic officials reportedly told him he wasn't allowed to do so (he popped it in after he received his medal, because after all, the Olympic podium is no place to be reckless). 
It's unclear exactly which IOC official barred him from wearing the grill — the report originated with ESPN's Wayne Drehs, who tweeted, "he tried to wear his grill on the podium only to have an Olympics official tell him if he did so he wouldn't get his gold." When asked to clarify the matter, IOC spokesperson Mark Adams said he'd look into it. "I can only speculate that it may have been a uniform issue, that [the grill] may not have been part of the uniform," Adams told USA Today. But true style knows no rules anyway, right? Happy Olympics Monday, everyone!