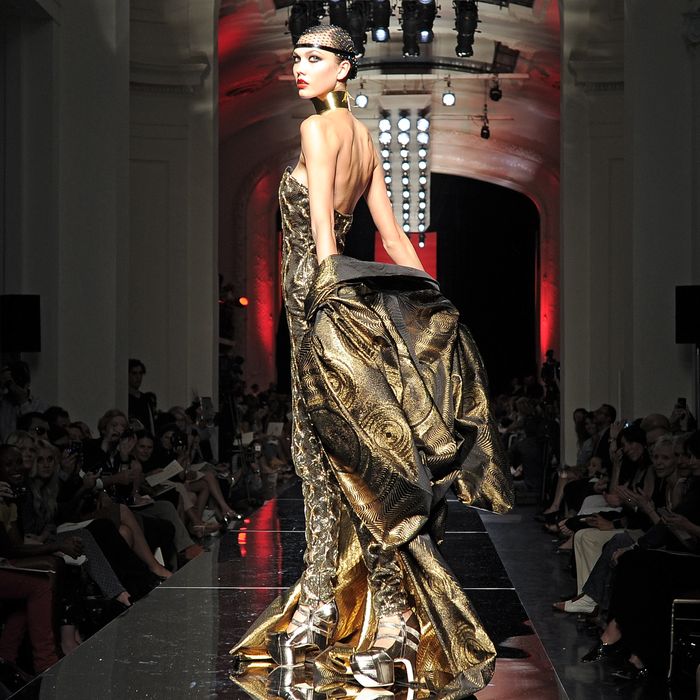 Karlie Kloss at Jean Paul Gaultier's fall 2012 haute couture show.
Photo: Chris Moore/Catwalking/Getty Images
Jean Paul Gaultier's signature theatricality was a refreshing counterpoint to the pared-down "modernity" of Raf Simons's Dior debut this Couture Week. Although Gaultier's designs can sometimes err on the wackier side, this season's couture collection was lush and striking — with swirling gold silk; majestic, fur-trimmed velvet; and neon-yellow beading — in all the ways that couture should be. While Simons's garments were hailed by WWD for their "glorious reality," Gaultier's were pure fantasy: He sent Lindsey Wixson down the runway in a completely sheer black robe, her nipples and crotch covered only by patches of black floral embroidery, and Karlie Kloss swooped out in a rich gold cloak.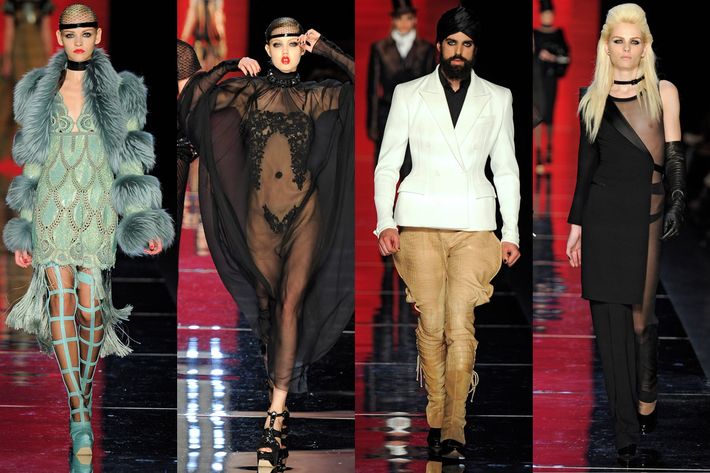 Critics of Simons's couture show (well, those on Twitter — no editors have breathed a word of disappointment in print) say that the clothes weren't distinguishable from ready-to-wear, at least not in photographs. Gaultier's clothes, by contrast, are all unquestionably one-of-a-kind, even when viewed on a computer screen. While these clothes aren't very wearable (it's hard to imagine many women pulling off Andrej Pejic's half-sheer jumpsuit on a red carpet — not that we'd discourage anyone from trying!), they're a joy to look at.