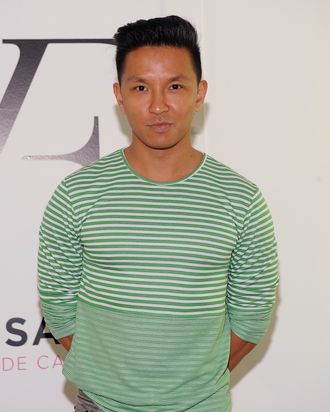 He's a-ok.
Photo: Brad Barket/Getty Images
Earlier this week, a Google Alert was sent out after the Global Associated News reported that Gurung "died in a single vehicle crash on Route 80 between Morristown and Roswell." The article can still be found online, and includes horrific, not to mention inaccurate details like: "Highway Safety Investigators have told reporters that Prabal Gurung lost control while driving a friend's vehicle on Interstate 80 and rolled the vehicle several times killing him instantly," and "The service is expected to be a closed casket funeral due to the severe head trauma."
The designer logged on to Twitter on Tuesday to let his followers know that he was okay:
Hi everyone I am safe n sound. Pls don't blv the spammed google alert ie going around proclaiming my death in a car crash.I found out about the alert when my fam n friends called me worried n crying just now. Its a horrible spam n I can't even imagine why or who would even do it but please be fully assured I am perfectly fine.
While it's possible there was another Prabal Gurung (in which case, how incredibly sad), we're going to file this under Celebrity Internet Death Hoaxes. And that's how you know you've really made it.