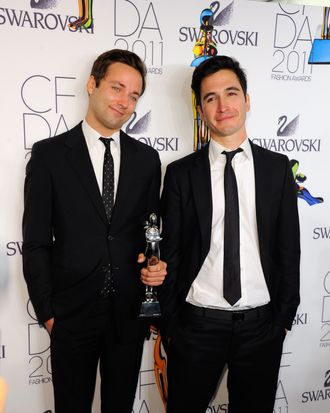 Proenza Schouler's Jack McCollough and Lazaro Hernandez.
Photo: Andrew H. Walker/2011 Getty Images
Proenza Schouler will open their very first store this Friday on a particularly swank stretch of Madison Avenue, within a block of chichi boutiques like Gucci, Prada, and Tom Ford. When WWD asked designers Lazaro Hernandez and Jack McCollough if it was weird for them to located be in such an upper-crusty neighborhood, given their reputation for looking all hip and "downtown," they said no. You see, people who live and/or shop around Madison Avenue are wealthy, and their clothes do cost a lot of money. In Hernandez's words, "It just felt wrong in a good way to open uptown … the reality is, the clothes are expensive and the customer is here."  (Also, let's just retire the expression "downtown," shall we? Any adjectives that were heavily used to establish a plot point for The City back in 2009 are certainly outdated now.) 
As for the store itself, WWD describes it thus: "a two-story matrix of Proenza Schouler cool," "edgy and sophisticated but not overtly feminine," and "raw yet slick." Designed by architect David Adjaye, the interior includes cactus plants, concrete walls, sliding glass doors, and lots of exposed pipes (Hernandez calls it "a room made of sidewalk"). McCollough and Hernandez will coordinate all of its offerings for at least the first few seasons, and offer lots of exclusive items to lure customers who might otherwise prefer to just order their Proenza off Net-a-Porter. 
And for anyone who's still hung up on their location, they'll have a store downtown soon enough: Andrew Rosen, one of the label's biggest investors, says that a boutique in Soho is next on the agenda.