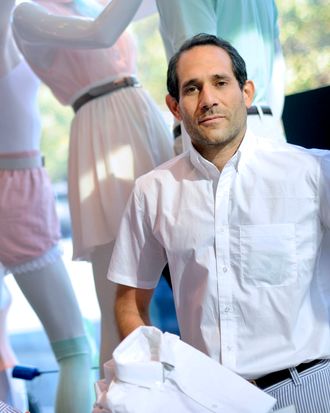 Absolutely no clue.
Photo: Bloomberg/2010 Bloomberg
While everyone weighed in on Ralph Lauren's China-made Olympic uniforms for Team USA earlier this week, Dov Charney lurked into the spotlight, with a mention on ABC's "World News Tonight" and similar intel printed in the Post:
Since 2011, the Russian Olympic team has been in talks with Los Angeles–based American Apparel for a deal to design its clothing for the 2014 games, sources confirmed.

"[Russian Olympic team representatives] said they didn't want anything that was made in China," American Apparel CEO Dov Charney told The Post. "It's not just for the uniforms — it's also the merchandise."
He also offered up his factory to help Lauren remake his apparel in time for the London games, and we called him a great guy! Boy, were we duped. WWD checked out Dov's story, contacting the Russian Olympic and Paralympic Organizing Committee, and a spokesperson said, "The official outfitter of the Russian team up to 2016 is the company Bosco Sport." And Bosco released the following statement:
Bosco is the official and exclusive outfitter to the Russian Olympic Committee. Our contract with the ROC means Bosco will be dressing Russia's Olympians and Paralympians through to Rio 2016, in the same bold and beautiful designs we have been creating for the team since Salt Lake 2002. There is no reason for that to change in the foreseeable future.
Dov maintains that he was in touch with "an organization that is connected to the government," but that "nothing has been signed." WWD concludes its investigation by stating, "both Forbes.com and Cocoperez.com incorrectly reported on their sites that American Apparel had a done deal for Russian Olympic uniforms." Forbes.com has never been in better company.