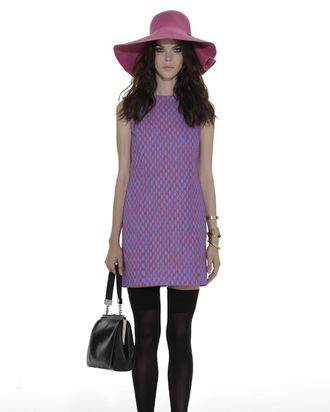 A look from Jason Wu's spring 2013 Miss Wu collection, courtesy of Geoge Chinsee/ Women's Wear Daily.
Photo: Geoge Chinsee/Women's Wear Daily
Jason Wu has toyed with diffusion before, namely with his highly successful Target collection earlier this year, but now he's officially producing a contemporary collection called Miss Wu (the name of his owl logo). He's partnered with Nordstrom to introduce the line in January, and has a one-year contract to sell the clothes exclusively through the department store's 49 locations and on its website, WWD reports. 
Wu's first collection, for spring 2013, consists of 40 pieces, all priced between $195 and $795. Apparently inspired by images of Jane Birkin and Marianne Faithfull from the 1960s, there'll be lots of girlish floral prints, A-line dresses, miniskirts, and bow details. And because it's still a far cry from inexpensive, the materials should be nice — a real leather jacket, good quality silk, and nice sequined embroidery.
Because every designer who starts a lower-priced line feels the need to assert that it is NOT just a cheaper version of his ready-to-wear, Wu explains the difference here:
I always see Jason Wu [the collection] as my aesthetic, my design sensibility. Miss Wu is my personality. It was really fun to explore that facet of who I am — slightly more downtown, and with a more relaxed attitude.
Gah, this "downtown" adjective again. Anyway, he plans to expand his retail sales beyond Nordstrom after his contract is up, and will add accessories by 2014.