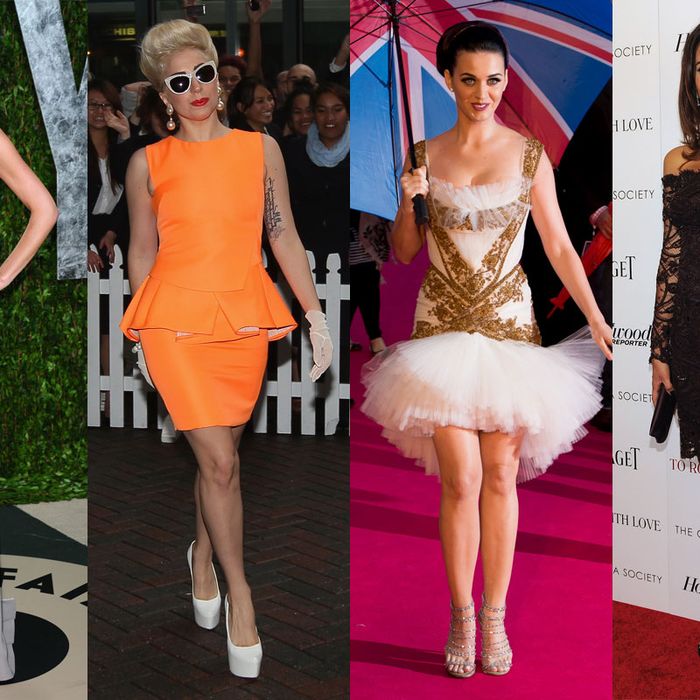 Cover girls Victoria Beckham, Lagy Gaga, Katy Perry, and Penelope Cruz.
Photo: Alberto E. Rodriguez/Getty Images, Sandra Mu/Getty Images, Ian Gavan/Getty Images, Larry Busacca/Getty Images
September fashion issues are almost upon us! Which is a depressing thought, considering all the frozen margaritas that have yet to be slurped, shorts that have yet to be worn, and hot dogs that have yet to be eaten this summer. Here's a roundup, courtesy of WWD, of what to expect from the magazines you'll be reading during your final weekend at the beach this year (and will throw away before returning home because they're shedding sand everywhere and are too thick, heavy, and wrinkled to repack).
Vogue: As previously reported, Lady Gaga will be on the cover, supposedly shot by Mert Alas and Marcus Piggott. The accompanying story will be pegged to her first fragrance, Fame, which comes out this fall.
Elle: Katy Perry lands the cover; her March 2011 cover was the magazine's second-best-selling issue last year.
Glamour: Per a press release, the magazine's September issue will be "completely devoted to fashion," even the relationship/career/health sections: "Every page will feature a fashion angle, which is a first for our magazine." We're interested in how the sex tips get worked into this. Victoria Beckham will be on the cover.
Harper's Bazaar: Gwen Stefani's cover is pegged to No Doubt's first new album in over a decade, "Push and Shove," which drops on September 25.
W: Cover girl Penélope Cruz is expected to talk about her new Woody Allen film, To Rome with Love, which came out last weekend.
Vanity Fair: WWD's sources say it'll be Jessica Chastain.
Marie Claire: They're going with Miley Cyrus, for no overwhelming reason.
InStyle: Probably Jennifer Lopez; her past covers for the magazine have sold well.
So in other words, we won't see any radically new or groundbreaking faces on the newsstand: All of these magazines have featured their respective cover girls at least once before. Then again, does anyone really expect to be "surprised" by American fashion covers these days? As usual, they're all playing musical chairs with the same, safe cast of characters.