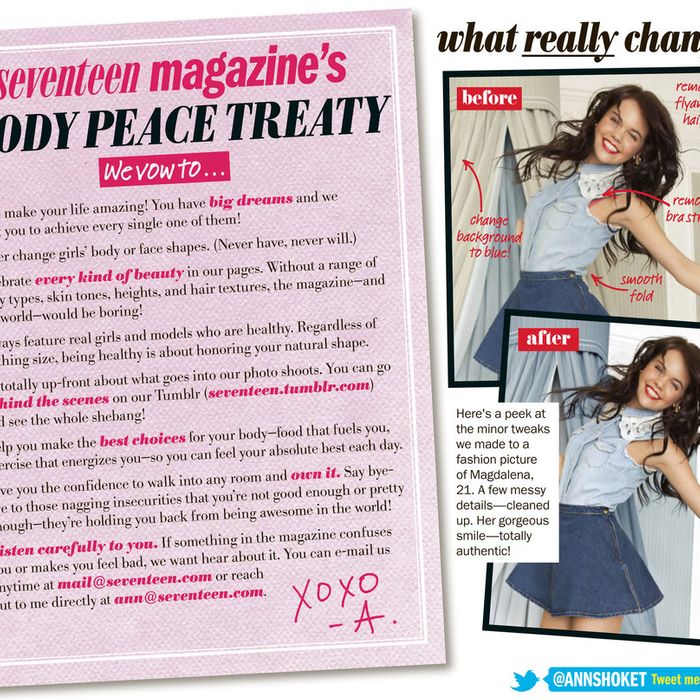 Seventeen's new "Body Peace Treaty."
Photo: Seventeen
On Tuesday, the Times announced Seventeen's new "Body Peace Treaty," an eight-point plan that will be printed in Ann Shoket's editor's letter in the magazine's August issue. The treaty pledges to "never change girls' body or face shapes" in published images — noting that they "never have, never will" — and insists that they will only feature "real girls and models who are healthy." Moreover, to give readers better insight into how "real" the models are, the magazine will provide comprehensive behind-the-scenes photos and videos on its website (surely giving them a nice traffic boost, too).
This pact is no doubt in response to a recent protest, led by 14-year-old Julia Bluhm, against the magazine's airbrushing practices. This past April, Bluhm circulated a petition on Change.org, titled "Give Girls Images of Real Girls," that asked the magazine to cut back on Photoshop:
As part of SPARK Movement, a girl-fueled, national activist movement, I've been fighting to stop magazines, toy companies, and other big businesses from creating products, photo spreads and ads that hurt girls' and break our self-esteem. With SPARK, I've learned that we have the power to fight back.

That's why I'm asking Seventeen Magazine to commit to printing one unaltered — real — photo spread per month. I want to see regular girls that look like me in a magazine that's supposed to be for me. 
By May 1, Bluhm had gathered more than 12,500 signatures. With the help of her mom, she then traveled from her home in Maine to New York, where she led a demonstration on May 2 in front of Seventeen's offices. After learning about the treaty on Tuesday, Bluhm wrote on the petition's home page, "Seventeen listened! They're saying they won't use photoshop to digitally alter their models! This is a huge victory, and I'm so unbelievably happy." 
That's great, but Seventeen didn't actually make that promise — and there's no way they'll stop using Photoshop to airbrush out acne or, say, brighten a model's teeth. Shoket even says so much in her letter, which includes a "before" and "after" image that illustrates the little things photo editors will continue to clean up digitally, like flyaway hair. 
In any case, it's still a step in the right direction — the more transparency with digital alteration, the better. Bluhm's next target is Teen Vogue, who's probably drafting up their own pact of sorts as we type this, as the petition already has more than 10,000 signatures.