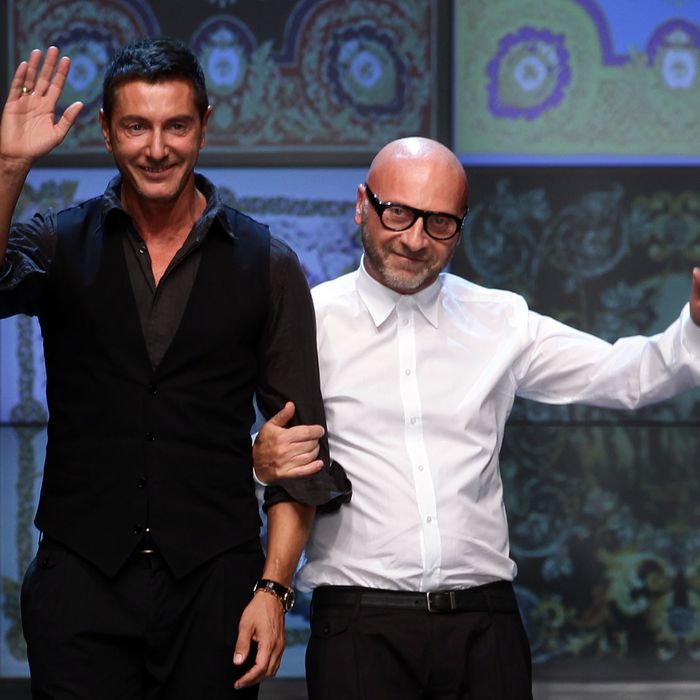 Stefano Gabbana and Domenico Dolce.
Photo: Vittorio Zunino Celotto/Getty Images
Dolce & Gabbana showed their first-ever couture collection, which they're calling "Alta Moda," in Sicily over a sweaty, 36-hour period from Sunday night to Tuesday morning this week. As previously reported, the show was held in the relatively remote seaside town of Taormina, far removed from all the fashion press, bloggers, and other people inclined to tweet photos and give their opinions on the dresses. Instead, the label only invited three newspapers (the Telegraph, Le Figaro, and Corriere della Sera), the international editions of Vogue, and a number of private clients (including Stephanie Seymour and the label's face, Scarlett Johansson) who were flown in via private jets from Qatar, Russia, China, the U.S., Germany, and Japan and then ferried from the airport by Mercedes. No attendees were permitted to take pictures. So, needless to say, we're getting all of our information about the collection from the Telegraph's Lisa Armstrong and Luke Leitch.
Before the event hoopla began in earnest on Sunday, two atelier tailors fainted from the heat (they have since made a full recovery). That night, during a performance of Bellini's bel canto opera Norma, held at an ancient Roman amphitheater, an editor collapsed next to the orchestra pit. Leitch reports:
First aid was provided by a doctor dressed as a druid who happened to be in that evening's chorus. He prescribed ice-cream, and she soon recovered. 
The evening concluded with fireworks and dancing and eating of Sicilian sweetmeats. The following day, the actual show — which consisted of 73 dresses — was staged at the former monastery of San Domenico. According to Armstrong, the clothes were heavily inspired by the Sicilian setting, with lots of elaborate lace and hand-painted floral prints. Meanwhile, some of the earrings were festooned with such huge gemstones that they featured hooks that looped over the top of the ear so as not to stretch the models' earlobes. Armstrong writes:
If you had to re-invent a definition of luxury, one of the most overused sells of modern times, then a double-sided cashmere-tweed with devastating curves over the hips, but light-as-a-one-ply-jumper thanks to its flyweight internal silk padding, is a good start. Black lace, boned suits with pencil skirts, months in the construction but effortless to wear, are another. The models, radiating that particular Dolce & Gabbana quality of demure (centre-parted chignons inspired by Visconti's 1963 adaptation of The Leopard ) and sexiness (molto translucency and visible lingerie) threaded their way through the guests who were cluster-seated in the bougainvillea-festooned cloisters of a former monastery.
The clothes seem to be selling, too: One Russian client who wasn't even at the show has apparently already ordered a bunch of items via e-mail. Meanwhile, the designers will only permit one version of each dress to be produced. If more than one customer wants the same garment, then too bad: "First come, first served," Gabbana said. And don't expect any of these to show up on Vogue covers or in editorials, either: "[The customers] really do not want to see their dresses in a magazine," Gabbana says, which means we can probably expect the same level of secrecy at the label's next Alta Moda show, which will reportedly take place in Shanghai in November.
As for the fourth fainter: She apparently swooned at the beach on Monday afternoon. (She's fine now.) We're in the process of procuring a few pictures from the show that have been released to the media. In the meantime, you can check them out on the Telegraph's website.