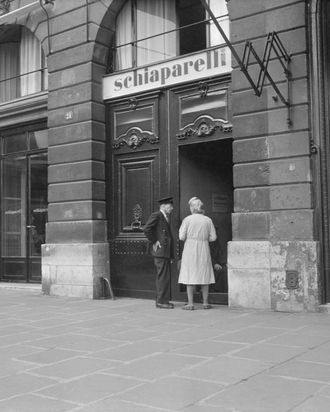 The building circa 1950. Now, just imagine Sharon Stone and a blue couch!
Photo: Bettmann/CORBIS
The label's spokeswoman, Farida Khelfa, opened the third-floor space (the fourth and fifth floors will eventually house ateliers and offices) on Paris's Place Vendôme last night for guests like Haider Ackermann, Victoire de Castellane, and Sharon Stone. And WWD overheard this offer:
"Sit, sit — you can be the first one," Ines de la Fressange said to Stone, motioning her to a pristine sofa in sky blue satin.
The rest of the space is decorated in Schiaparelli fashion.
Appointed with pale Forties furniture, the bright grand salon boasts a lobster-shaped chest of drawers by designer Vincent Darré and a sphinx sculpture that once crouched in Schiaparelli's original atelier. The mirrored dining room features chairs by Giò Ponti, a rug by Fernand Léger, and a pair of giant metal eyeballs springing out of the wall.
So, who will enjoy having said metal eyeballs stare at them daily? Diego Della Valle is supposedly still on the hunt for a designer with the revival collection scheduled to show in January. Time is ticking. On one of those dripping, Dalí-esque clocks.