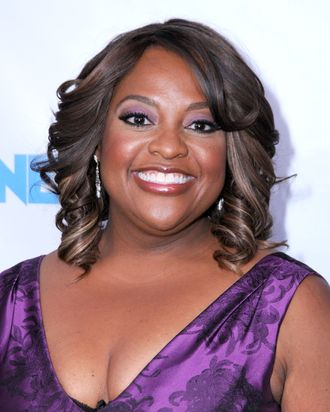 Sherri Shepherd, presumably somewhere between 'Back to you, Barbara' and 'Bubblin' Brown Sugar.'
Photo: Barry King/FilmMagic
A wig and hair-extension company called Luxhair has roped three celebrities into repping new lines for them, including Sherri Shepherd, whose well-documented history of wig-wearing dates back to her childhood. She has previously likened hairpieces to accessories, "like a hat or a bracelet," adding, "you can become someone else, and then you go home and take that bad baby off!" She tells WWD:
One day I can wear what I like to call my 'Back to you, Barbara' look — professional and full of layers — and the next day you may see me in my 'Bubblin' Brown Sugar' look — curly, fun and bubbly.
Her twelve-piece collection, Luxhair Now, will retail for $69 to $99 and come in eighteen different colors. Meanwhile, TV host Daisy Fuentes and hairstylist Tabatha Coffey are also getting their own ranges, titled Luxhair Wow and Luxhair How respectively. (Yes, really!) How they didn't get Wendy Williams in on this is just criminal.